How customer experience goes beyond design
How customer experience goes beyond design
/images/uploads/blog/Dallas_Media_Group-00.00-Blog_%283%29_.jpg
Omaha Media Group
https://www.omahamediagroup.com/images/uploads/monster_gallery/Omaha-Media-Group-Black.jpg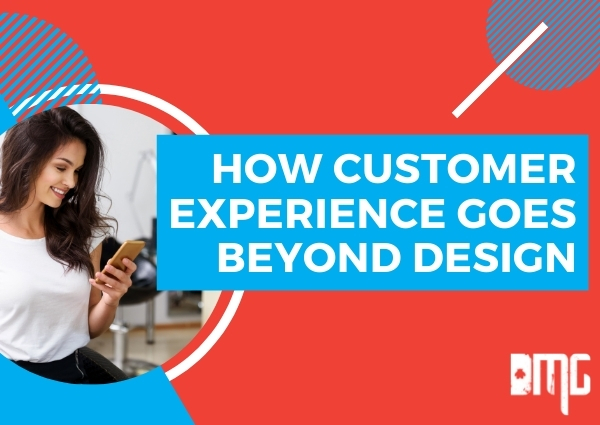 The lines between products, services, and customer experience have been a bit blurred for companies and agencies to create the perfect website. With customer experience, user experience, the anticipation of meeting rising customers' demands and their expectations, leads, and more, how can a company develop a customer experience beyond the website design?
Why is customer experience (CX) important for a business?
When websites all start to look the same, it can be a problem. This is because it isn't developing your own customer experience, it is creating the same one as every other website in the industry. You want to create the best online and offline experience for every customer that navigates through your website.
Research shows that customers are willing to pay more for a better experience, and companies who invest in their experience can see a 70 percent increase in revenue in 36 months.
CX corresponds with a company's Customer Relationship Management (CRM) because if the experience is better, a customer is more likely to hit that final action on the site, which results in better leads, repeat customers, and creates loyalty.
This is how to continue to improve CX beyond the website.
1. Highlight how you give back
Consumers are searching for companies that provide ethical resources to make the world a better place. If your company participates in non-profit work, community involvement, philanthropic events, or giving back in other ways, that provides customers with a better understanding of who your company is.
Salesforce developed a model called 1:1:1 that this company dedicates one percent of its technology and other resources to be involved in the betterment of the world.
This has provided monetary donations, community service, and product donations to communities, educational organizations, and institutions.
2. Create emotional connections
For e-commerce companies, this is extremely critical to continue to achieve the best
CX opportunities beyond the website. If a customer has issues with returns, late shipping, and missing products, the most simple gestures can create an emotional bond.
Reach out through the platforms they are utilizing every day. Provide clear answers, follow-ups and add a bit more to their experience. Send a coupon for their next purchase, send a neat piece of swag, add a free item or simply apologize in a handwritten note.
This creates a straightforward experience for these customers and an emotional connection that can keep them around for a lifetime.
This can be a trigger point and difficult for companies to understand, but what customers bring to the table can be the changing point in how to improve customer experience on the website. Whether it is a better form, faster loading speeds, navigation changes, immediate responses, or user-generated content, listen and grow.
4. Invest in teams, technology, and services
As a company, you cannot answer each and every question, email, and message that comes through the website or social media, but investing in teams and technology could provide a solution to this ongoing challenge.
Companies can invest in chatbots that provide immediate results to inquiries coming through the website. Facebook offers the same services for every business page. This is a simple solution to investing in technology.
Are teams a bit overwhelmed? Is there really enough staff to support them and help the company grow? Sit down, listen to needs and provide solutions that can help everyone out in the end.
A study at the University of Oxford found that happy employees who are supported provide better sales and turnaround times versus burnt out and unsatisfied employees. It just makes sense.
Do your services need to be updated with the current state of ongoing changes in the digital world? If you are unable to provide a service, can you outsource to someone else who can help and support this service?
Consider this option and this can help increase employee engagement and happiness due to a relief of a workload.
These four points listed above can help companies create better experiences for their customers beyond the website.
________
But first, let's make sure your website is in tip-top shape. For a consultation, please fill out the contact us form below. We look forward to hearing from you.
Share this post
Comments