Social media marketing tips: Social media ettiquette
Social media marketing tips: Social media ettiquette
/images/uploads/blog/Dallas_Media_Group-02.05-Blog_.jpg
Omaha Media Group
https://www.omahamediagroup.com/images/uploads/monster_gallery/Omaha-Media-Group-Black.jpg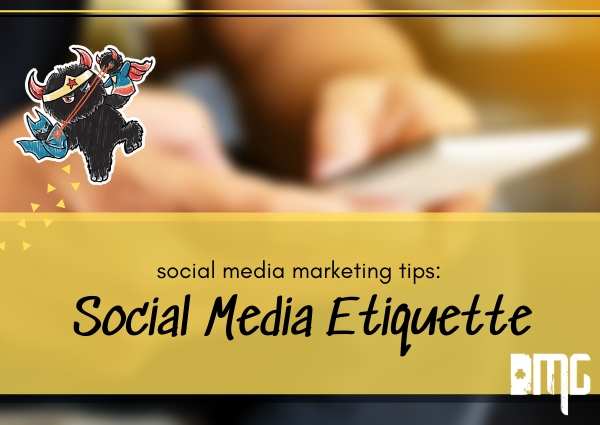 You would not go to a fancy steakhouse just to disrespect the chef's cooking on the perfectly done steak! It is dinner etiquette, and just like all different types of etiquette in life, social media marketing has its own set rules of etiquette!
Interact with followers
As Buffer states, "social media marketing is the use of social media platforms to connect with your audience to build your brand, increase sales and drive website traffic. Social media marketing first started with publishing. Businesses were sharing their content on social media to generate traffic to their website and hopefully sales. Nowadays, businesses use social media in a myriad of ways."
From strategy to social media listening, all of it is part of monitoring social media to interact with consumers, potential consumers and other companies. Social media was founded on the notion of being social and interacting with others, and followers want a company who interacts with them.
If consumers are tagging your company, using branded hashtags or speaking about your company in general, interact with them!
Stop auto DMs
We are here to tell you, from one professional and company to another, please stop the automated DMs once someone follows you. Please, just stop it. We consumers, decision makers or other companies followed you in regards to content that they are already interested in, and sending a weekly message about leads and promotions will not keep said follower.
If anything, we typically unfollow these people because we get excited that it might be a lead and then it is a spam message.
Respond to all comments
One of the biggest social media marketing tips out there is to respond to ALL comments. As User Generated Content continues to skyrocket on social media platforms, a consumer wants to see the good and the bad. This is because it can help inform their overall decision better, and with this in mind it shows how a company will respond and fix problems.
A customer who notices that a company never responded to a negative review or plea from a consumer might be turned off. This is because the consumer could assume that the company does not care about their customers at all, when it doubt, that is the exact opposite from the truth.
We thought that the top social media marketing tips were critical, but this one is our second biggest etiquette tip. Hashtags are all about getting your post out to a larger audience than your current following on social media platforms, but when it comes to social media etiquette, there are hashtag rules for each platform!
Stop putting 30 hashtags on Facebook. Hashtags are cool and vital to any social media marketing strategy that is being created, but they can also become distracting and target the wrong audience without research.
HootSuite suggests the following amount of hashtags on social media platforms:
Facebook- one or two

LinkedIn- one or two

Twitter- one or two

Instagram- nine to 15
Research is a big part of this social media marketing etiquette because even if a company uses one to two as recommended by experts, the wrong hashtag is still as useless as 15 hashtags.
Just because it SEEMs as if it is a hashtag, does not mean it is the best hashtag.
Entrepreneurs, start-ups and small business owners: Please stop sharing personal information on business pages UNLESS it is very relevant and professional. There are moments where a personal experience can be beneficial on a business page, but do not share memes from your personal page to the business page.
Keep it classy and professional.
Give credit when it is due
In our personal lives, we have all been here a time or two. You spend the majority of the time working on a paper, presentation or other important work just for someone else to claim they did it all. Don't be that person on social media.
Are you taking content and writing a new tease? A simple "@" the company can make all the difference. Are you writing a blog surrounding a different company's research or abacklink to their research? Don't be the experts or company who uses content and ideas from others without a bit of credit here and there.
Stop oversharing
At Dallas Media Group, our company tells clients this all the time. Clients often ask for three to four posts on Facebook and just "spam everyone."
Business2Community shares that each platform should only be getting so many posts per day dependent on how that platform works.
Facebook- one post per day

Twitter- 15 tweets per day

LinkedIn- one post per day

Instagram- one to two posts per day

Pinterest- 11 pins per day
Stop posting three to four times a day in hopes it helps your engagement, if anything, it ends up decreasing your engagement! Be strategic.
These are our top social media marketing tips for social media etiquette friends! For any more information or help with this, give us a call.
Call the social media etiquette professionals!
We don't chew with our mouths open!
Get In Touch
Share this post
Comments