The top 2022 trends in our industry
The top 2022 trends in our industry
/images/uploads/blog/Dallas-Media-Group-01.01-Blog_.jpg
Omaha Media Group
https://www.omahamediagroup.com/images/uploads/monster_gallery/Omaha-Media-Group-Black.jpg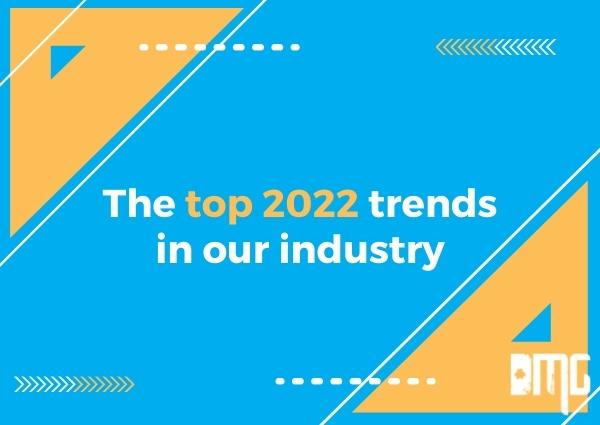 It's that time of the year again when companies in all different industries look at the digital trends that they are predicting could change the landscape of the industry in the new year.
In the year 2021, the start of the year saw the rise of the successful app TikTok (even the possible downfall), cryptocurrency and dogecoins grew in popularity, Google released a cookieless marketing world update, and Facebook switched its brand to "Meta."
While there have been plenty of different and even drastic changes in a multitude of industries, our experts are reporting on the top industry trends of 2022 from marketing trends in 2022 to website design and graphics in 2022. Let's get started.
Marketing trends in 2022
The rise of social commerce
The rise of ecommerce has changed the landscape of discovering, purchasing, and selling products and services on the internet.
In 2020, ecommerce showed a big upward trend due to the COVID-19 pandemic, and as we enter a new year, the world of social commerce is taking the internet by storm.
Social commerce is exactly what it sounds like. It is the selling and discovery of products and services on social media platforms, without having to leave those platforms. With Facebook being the top social commerce platform, and the United States behind China in global social commerce sales, it is a big trend.
Research is showing that 83 percent of consumers are discovering new products on Instagram, and research continues to show that the seamless experience of simply purchasing a product right from the Instagram or Facebook app helps out brands.
It provides the unique ability to reach customers right where they are shopping, gives them the opportunity to never leave the app, and helps with the Facebook and Instagram algorithm!
It is predicted that in 2023, Google will change its settings around using cookies in online advertising, and with the iOS14 update with Facebook, advertising cookies are being transitioned out and online advertising is drastically shifting.
The continued research shows that consumers are feeling less and less privacy with social networks and the internet itself. And because of this, Google, Facebook, and other social and search engines will need to take a step back, and modify their reporting and advertising metrics to help continue to provide the best bang for the buck!
Website development in 2022
Single-page applications
A single-page application is a website application that only opens a singular web document. A great example of this is Facebook, Pinterest, Twitter, Netflix, and other common apps. A single-page application provides a desktop experience that mirrors the native app itself.
This approach leads to no page reloads and rewriting the page itself. This helps to remove the need to navigate from one page to another to get the necessary information. It provides the ability to click on the necessary information right there.
Without needing to reload the page itself, it provides client-rich functionality, and in return, can provide a better overall user experience for those utilizing the web app itself.
There are moments when a single-page web app isn't better than a multi-page web app, but it really depends on the needs.
Website design in 2022
Y2K is back in style
The Y2K fashion era is back, and while Gen Zers don't understand the struggle of wet bell-bottom pants yet, part of this trend is making its way in the design world as well. As much as we might not want to see this, it gives us Brittany Spears with Paris Hilton and Lindsey Lohan vibes, in a good way.
The Y2K trend is all about mixing and matching, bright and bold colors, more unique design elements, and maybe even bubble letters again.
The 2000s were part of a large movement in the website design and graphic industry's change from earlier years that led to the modern, simplistic design that is known today.
The nostalgic part of the Y2K design trend can be what is selling it on sites and social media. It is all about bringing back those memories. And these are some elements that should be added:
Large, bold bubble fonts

Memphis design patterns

Retro gradient

Bold, brighter, bigger, the better
While bubblegum pink might not be part of the branding, are there other ways that the Y2K style and feel could be implemented here and there?
Hopefully, those Gen Zers understand the bell-bottom pain and we can get the Y2K fashion over with.
All in all, from marketing trends in 2022 to website development and design trends in 2022, these trends in the industry are nothing surprising, and for many of these, 2020 started the development of these trends, but it is important to take into account how they are going to rapidly change!
Share this post
Comments