Top benefits of Google My Business for restaurants
Top benefits of Google My Business for restaurants
/images/uploads/blog/Dallas_Media_Group-00.00-Blog_%281%29_.jpg
Omaha Media Group
https://www.omahamediagroup.com/images/uploads/monster_gallery/Omaha-Media-Group-Black.jpg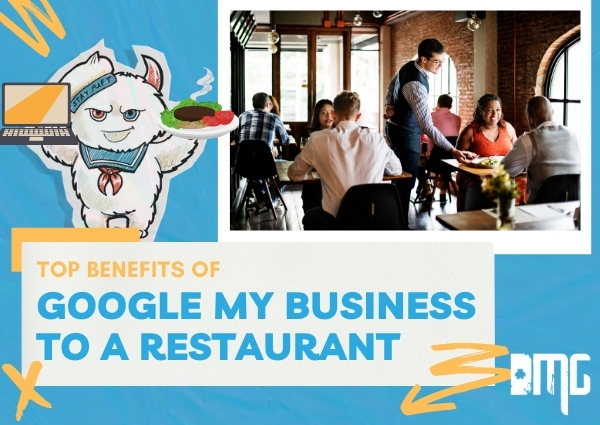 The hungry patrons driving down the road have slowed down and more and more of these patrons are turning to the internet to find their food. From mobile apps such as GrubHub, PostMates, and don't forget search engines like Google to find their favorite local spot's menu and takeout options.
Americans spend on average 12 percent or more of their annual spending on take-out, eating out or delivery options, and during COVID-19 this number could be predicted to be higher than normal! As restaurant owners and managers, providing the best experience possible will bring consumers back, but you will need an influx to continue to keep the doors open.
This is why, even with a small marketing budget, one of the biggest assets to your marketing efforts will be Google My Business.
Google My Business (GMB) is a free marketing tool that helps companies bring customers right to their listing! With GMB, you create your account, add all the necessary categories and attributes, claim this page and start the process of updating it regularly.
GMB also allows patrons to leave reviews, and in return, this does help with local SEO rankings over time because it proves to Google that you are a real and credible company.
The thing to remember is that this is not local SEO, it is Google My Business. It plays a major role in the local SEO optimization, but simply having one and posting to it does not help your rank in Google.
These are the top Google My Business features for all restaurants!
Google my Business for restaurants
1. Bring in locals
This seems pretty obvious, but GMB listings lure in customers because you are feeding Google what consumers want! A menu, reviews, and a description. Even if a customer doesn't know the name of your restaurant, when they search "tacos near me" your GMB could be the one showing in the results! You gain SERP real estate as we call it without even having to run paid advertising.
2. Be ahead of the competition
As a creative management firm, a restaurant owner would be surprised at the number of restaurants that have unclaimed GMB pages, no websites and little to no digital marketing efforts. It happens, but the thing is, this is the perfect opportunity to give your restaurant a cut ahead of the competition. Always use this as a moment to capitalize on these opportunities.
3. Visibility on the Map Pack
The Map Pack on Google is the top three organic search results that populate when someone searches for "tacos near me." This also shows on the Google Maps results page. The first three listings on Google are paid ads, followed by the map pack or local search results, and Yelp and other third party systems when it comes to restaurant marketing.
This provides even higher results and visibility to your restaurant which could result in even more sales!
4. Engage with customers
Customers want their needs to be met in a timely manner. GMB allows for restaurant owners and general managers to respond quickly to one or two star reviews, and on the other hand, GMB released a feature that allows for owners and general managers to instant message with their potential customers!
5. Menu options!
In GMB it is simple to implement your dinner, lunch and brunch specials right within your listing! For those restaurants that offer easy and convenient food, don't miss out on this opportunity. Since COVID-19, there has been a 21 percent spike for sandwiches and wraps, a 10 percent spike for burgers and a nine percent spike for pizza.
6. Booking features
Do you currently have a wait? Are you at full capacity? Let hungry consumers know this before they ever call or visit your restaurant. This feature allows customers to book a reservation time or provides them with a waiting time. This is through 3rd party platforms that are available on the market but is an excellent way to streamline your reservation process.
GMB also offers the feature for guests to make an online order for delivery and pick-up options as well. If guests are not wanting to reserve a table, this could be the other way around this dilemma.
7. Photos and videos
If you want to get consumers' attention, photos and videos are the way to go. This can range from menu items, customers' photos, images of inside the restaurant, the rooftop patio, the outside seating, any social media posting!
Really, the biggest take away from that above is that restaurants need to be adding consistent content to their GMB to bring in consistent customers.
8. Google offering posts
Any promotional offers that you would like to run can be simply added to your GMB listing. These updates will be visible to anyone who searches for your restaurant directly or if you show in local listings. You can add UTM codes from these promotions to the code of your website and inside Google Analytics, another free marketing tool, which will track and provide valuable insight into the promotions.
Is this local SEO?
No, this is not local SEO. It is important to have a GMB listing to help with any local SEO strategies, but a restaurant that wants to see some great results needs to implement local SEO strategies as well.
Bummer, we know, but it is for the best long-term success for your restaurant. To get help with a website, setting up your GMB listing or any other digital strategy, contact us today!
Contact Us
We want to hear from you, so what are you waiting for? Contact us today.
Get In Touch
Share this post
Comments