10 Tips on visually optimizing your small business web design
10 Tips on visually optimizing your small business web design
/images/uploads/blog/Dallas-Media-Group-05.29-Blog__1.jpg
Omaha Media Group
https://www.omahamediagroup.com/images/uploads/monster_gallery/Omaha-Media-Group-Black.jpg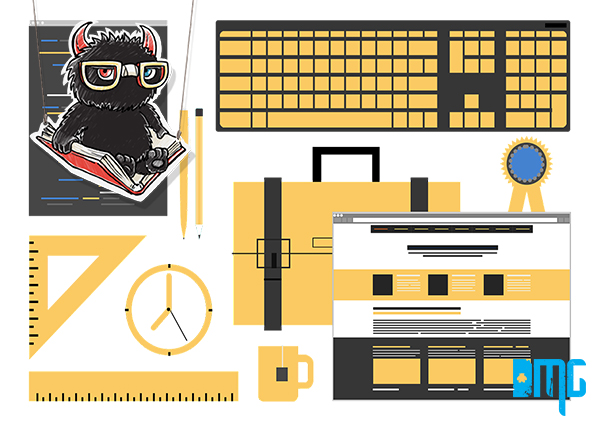 In the digital age of marketing, the layout of a business's website is important. A poorly designed website can cost your business substantial web traffic, and therefore, substantial sales.
Need a little help with your web design Dallas TX small business? Then read on. We're going to help you optimize your business website by providing you with 10 web design tips.
1. Simplify it
The key to good web design is simplicity. The more complicated your website is, the harder time visitors are going to have in navigating through it. If they have a difficult time navigating through it, they will likely just leave in frustration.
Keeping a web site simple is about productively utilizing space. By compartmentalizing different design elements on your pages, you can intuitively lead your visitors' minds to certain ideas.
For instance, by keeping your various page tabs compartmentalized to the top right of your home page, you can lead your visitors to realize their intent subconsciously. In other words, you eliminate the guess-work.
Background boxes are helpful as well, as they keep like elements grouped together in an obvious way. By doing so, they streamline the visitors' thought processes, allowing them to surf through your website intuitively.
2. Cut down on the clutter
When a web user looks at your site, you want him or her to be able to discern information within milliseconds. This can't be done when your site is filled with clutter. For this reason, you need to cut it down as much as possible.
What is clutter, you ask? Everything from block paragraphs to misaligned background boxes to densely packed images and more. Anything that makes it difficult for the human mind to process information could rightfully be called clutter.
Clutter can single-handedly ruin a website, even if the content contained within is high-quality, sought-after information. You don't want it on your business website.
3. Prioritize link visibility
When a web user arrives on a business's website, the first thing he or she generally does is look for page links. While the home page of a business's website is important, it has very little to offer those who are actively seeking services. Instead, the visitor is more than likely looking for the "services" or "contact" page.
So, what does this mean to you? It means that you should give your visitors what they're coming for, easy access to your page links.
If it's hard for visitors to find links to your "contact", "services", "blog", and "about" pages, visitors will likely take their business elsewhere. Conversely, if you make these links obvious, business is bound to roll in.
4. Make use of SEO
One of the keys to getting traffic to your business website is to engage in SEO or search engine optimization. This is a process wherein you get a site to rank for specific keywords on search engines such as Google.
SEO is a complex process and must be prioritized consistently. But, on a web design level, it's about using the proper keywords, utilizing the proper image alt texts, and optimizing page speed.
5. Utilize calls to action
While aesthetics are the bulk of web design, content is important as well. All the pretty colors in the world won't make up for poorly produced page copy.
The copy on your pages should be short, succinct, informational, and conversational. However, most of all, it should coax visitors to take action of some kind.
For instance, if you want your visitors to buy a specific product of yours, your page copy should, at some point, say something to the effect of "Buy [name of product] now!". By directly calling your visitors to action, you are bound to land more sales.
6. Think about load speed
A fairly big component of SEO is page load speed. Pages which take 10 seconds to open will almost always rank lower than pages which take only 2 seconds to open.
So, what does this have to do with web design? Everything.
The more design elements you have on your website, the longer it's going to take to load. For this reason, you should keep the use of pictures and videos to a minimum.
7. Be friendly to mobile devices
In 2018, 52.2% of web traffic came through the use of mobile devices. In other words, the internet is going mobile. As such, you need to optimize your website for use with mobile devices.
Failure to optimize your website for mobile will not only hurt you in terms of SEO, but it will also create frustration for potential customers. Make sure to test your website on mobile devices each time design elements are added.
8. Maintain your brand
Your business's website is its online authority. As such, it needs to convey the message and attitude of your business's brand.
This means not only that you should maintain the color scheme common of your brand, but that you should create content reminiscent of your brand as well.
9. Add original images
One of the common themes you'll come across when looking at business websites is the use of stock images. While having images on your website is both beneficial and wise, the use of stock images can often hurt a website more than it can help it.
If you're going to use images on your website, you would be wise to use original images. Hire a professional photographer to snap photos of your team, your building, your products, and more. Believe us: your potential customers can tell the difference.
10. Use video sparingly
More and more business websites are using video on their pages, helping to make the user experience a little more interactive. For the most part, this is a good strategy.
However, you should be careful not to use too much video. Having too many videos on a website can not only overwhelm visitors, but it can also slow the website down substantially. In essence, use video sparingly.
Need More Web Design Tips?
In need of more web design tips? Are you looking to hire someone to help with your web design Dallas Tx area, we here at Dallas Media Group are the people to see.
Our team has designed and optimized websites for numerous businesses throughout the Dallas area. We look forward to helping you with your web design Dallas Tx.
Contact Us
We want to hear from you, so what are you waiting for? Contact us today.
Get In Touch
Share this post
Comments