Website design tips for small business
UPDATED 10 Tips on visually optimizing your small business web design
/images/uploads/blog/Dallas_Media_Group-04.28-Blog_.jpg
Omaha Media Group
https://www.omahamediagroup.com/images/uploads/monster_gallery/Omaha-Media-Group-Black.jpg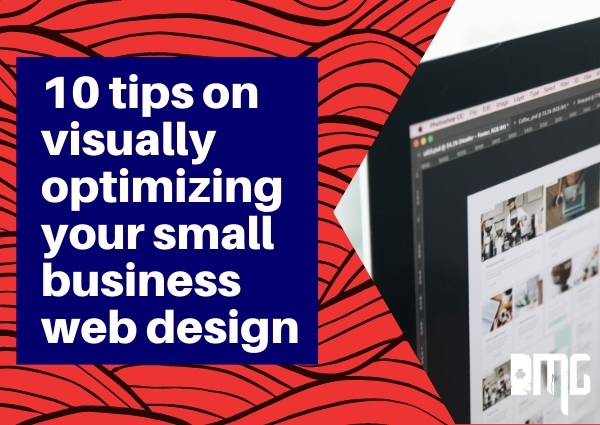 In the digital age of marketing, the layout of a business's website is important. A poorly designed website can cost your business substantial web traffic, and therefore, substantial sales.
Need a little help with your web design Dallas TX small business? Then read on. We're going to help you optimize your business website by providing you with 10 web design tips.
1. Simplify it
The key to good web design is simplicity. The more complicated your website is, the harder time visitors are going to have in navigating through it. This causes friction and even a negative connotation between your website and its customer experience and journey.
Keeping a website simple is about productively utilizing space. By compartmentalizing different design elements on your pages, you can intuitively lead your visitors' to the final action of their customer journey.
A customer journey is the path through the website and all products that enable the decision-making process. Customers often go through five processes of this journey that lead to their final destination!
For instance, by keeping your various page tabs compartmentalized to the top right of your home page, you can lead your visitors to realize their intent subconsciously. In other words, you eliminate the guesswork.
Background boxes are helpful as well, as they keep like elements grouped together in an obvious way. By doing so, they streamline the visitors' thought processes, allowing them to surf through your website intuitively.
2. Cut down on the clutter
When a consumer looks at your site, a company wants them to be able to discern information within milliseconds. This can't be done when your site is filled with clutter.
What is clutter, you ask? Everything from block paragraphs to misaligned background boxes to densely packed images and more. Anything that makes it difficult for the human mind to process information could rightfully be called clutter.
Clutter can single-handedly ruin a website, even if the content contained within is high-quality, sought-after information. You don't want it on your business website.
3. Implementing blogging
Publishing regular blogging content, press releases, quarterly industry reports and other unique content is a great way to bring in consumers. It helps to position your brand and company as the industry leader which creates trust between consumers and the brand and company.
Not only does it create trust between the consumers it also shows search engines like Google that your company is trustworthy, which helps with ranking in said search engine.
Research shows that 65 percent of Americans use a search engine when it comes to purchasing decisions, and a great way to get those consumers to the site is with optimized blogging content!
4. Make use of SEO
As stated above, optimized blogging content is a great way to rank in search engines, but on the other hand, search engine optimization (SEO) is more than optimized blogs.
SEO strategies include on-page and off-page optimization with backlinking strategies, on-page optimization, meta-data, tags, image optimization and so much more!
This is a long game process that all companies need to implement, and with the proper website design in place, this only helps with ranking in search engines!
5. Utilize calls to action
With an intuitive and easy to navigate website, this provides the necessary information and builds trust, but helps consumers find what they are looking for. While Millennials and Gen Z are tech savvy, they still need to be told what to do!
The same goes for any generation, consumers are able to navigate through websites but need a small push for that final action.
The copy on your pages should be short, succinct, informational, and conversational. However, most of all, it should coax visitors to take action of some kind.
Whether it is contacting a website design and development Dallas agency or purchasing a new product, include relevant calls to actions on multiple pages of your website.
A call to action is a strong, effective and powerful statement that encourages the users to make that final decision.
For instance, if you want your consumers to buy a specific product of yours, your page copy should, at some point, say something to the effect of "Buy [name of product] now!". By directly calling your visitors to action, you are bound to land more sales.
6. Think about loading speed
The Google Page Experience update takes into consideration the loading speeds of websites. So, what does this have to do with web design? Everything.
The more design elements you have on your website, the longer it's going to take to load. The bulkier the code is, the larger the videos, the more images that are not compressed and other large and even flashy elements could slow down the site.
While you can still implement these elements into your website design, it is important to make sure that they are properly implemented to ensure the fastest loading speed possible.
Merkleinc states that 63 percent of Google's organic traffic comes from mobile devices. Mobile search refers to search queries carried out on a cellphone and even tablets. When it comes to mobile friendly design, there are a few website design tips for small business our web design and development Dallas experts suggest:
Provide easy navigation

Configure images properly

Avoid flash

Skip "creative" navigation "hamburgers"

Prioritize loading speed

Make sure no one has to zoom on the site!
8. Maintain your brand
Your brand is what consumers will associate your company with. Their positive, negative or so-so thoughts will be their association. The company's website is its online authority. As such, it needs to convey the message and attitude of your company's brand.
What are the core values? What do you stand for? Are you a part of the community?
Not only should this be kept in mind, but make sure branding guidelines are consistent and tone of voice goes along with this.
9. Add original images
One of the common themes you'll come across when looking at company websites is the use of stock images. While having images on your website is both beneficial and wise, the use of stock images can often hurt a website more than it can help it.
If you're going to use images on your website, you would be wise to use original images. Hire a professional photographer to snap photos of your team, your building, your products, and more.
10. Use video sparingly
More and more business websites are using video on their pages, helping to make the user experience a little more interactive. For the most part, this is a good strategy.
However, you should be careful not to use too much video. Having too many videos on a website can overwhelm visitors and slow the website down substantially.
Need more web design tips?
Are you looking to hire someone to help with your website design and development strategies? At Dallas Media Group we are here to help!
Contact us today for a consultation!
Contact Us
We want to hear from you, so what are you waiting for? Contact us today.
Get In Touch
Share this post
Comments