Email marketing strategies for launching a new business
Email marketing strategies for launching a new business
/images/uploads/blog/Dallas_Media_Group-02.24-Blog_.jpg
Omaha Media Group
https://www.omahamediagroup.com/images/uploads/monster_gallery/Omaha-Media-Group-Black.jpg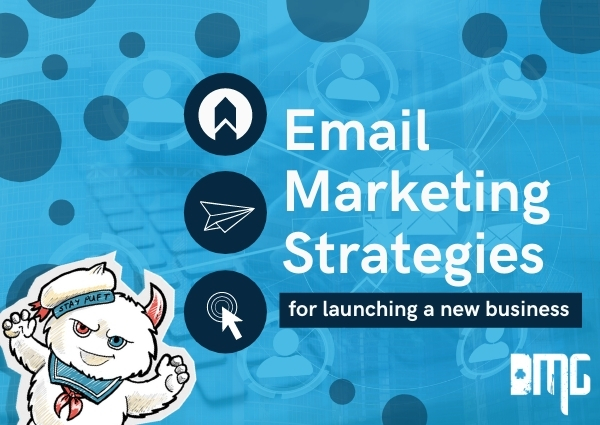 In the process of developing a new marketing campaign for the launch of your new business, it is important to check all the "to-dos" off the list and one of those is email marketing strategies. Email marketing provides new small businesses with the ability to directly reach their customers and drive action, increase awareness and reach them where they are spending most of their time. '
McKinsey states that employees spend 28 percent of their work-week managing emails, and this does not include those in managerial positions. LocaliQ's data shows that as consumers we are checking our emails 20 times a day across a multitude of platforms such as desktop or mobile devices.
Whether you are a B2B or B2C small business, consumers are out there checking their emails!
Here are five reasons why a strong email marketing strategy for small businesses can catapult it from the beginning!
1. Create unique and individualized content
Email marketing allows for the customization of content and produces content that is a bit different than other marketing strategies. With the right email marketing services in Dallas, email marketing software allows you to customize your subject line which means adding their name in the email and developing relationships with these customers.
Not only does this allow you to create personalized content, but segmenting your customers into different categories ensures that they are receiving the content that they subscribed to. This enables a company to create a drip campaign that sends at the best time and sends that content only to those customers.
2. Drive traffic to your website
Email marketing campaigns can easily drive traffic to your website by implementing a landing page that directs consumers right to that page. Whether it is a hyperlink on an image or a CTA placed strategically on the email, this can impact SEO, traffic and even ROI. Overall, it helps to boost traffic to the site and in return that can drive more traffic to other parts of the website.
From there, a UTM code can be added to the website that tracks everything through Google Analytics. This can give a direct measurement of the campaign's success and what could be improved in the future.
3. Build brand awareness
It provides email marketing strategies for small businesses to improve their brand awareness, as a business that is trying to break through the noise in your industry, you need to let customers know you are there and ready to offer them services. Without brand awareness, no one will know who you are.
It is estimated that email is 40 percent more effective than Facebook and Twitter ads and organic posts to help acquire new customers and the lead generation is higher than the social media platforms above.
This creates the personality of your small business, the tone, the services provided and pattern for recognition.
4. Track with ease
A number of small businesses find themselves using email marketing because it is easier to track and record metrics. It is simple, straightforward and shows the lead generation easier than other marketing campaigns like social media marketing.
At Dallas Media Group, our email marketing software allows you to track everything from geographical location to who is forwarding messages to other customers or family members. This is just one of the email marketing services in Dallas that we can offer to local small Dallas businesses!
5. Create a loyal customer base
Loyalty in a digital landscape is one of the most important elements to marketing strategies because these are the regular customers for your business. Whether you are an online retail or capital raising business, creating a loyal customer base can increase leads over time.
StampMe states that loyal customers are 67 percent more likely to continue to purchase products over and over again versus new customers, and are willing to refer your business to others time and time again.
Email marketing can be the secret weapon that all new businesses are searching for to break through the digital noise and their industry, and with the right services on your side, it can create a seamless marketing strategy for years to come.
For more information on email marketing and our other digital services, contact our experts today.
Share this post
Comments