The four types of marketing emails
The four types of marketing emails
/images/uploads/blog/Dallas_Media_Group-09.22-Blog_.jpg
Omaha Media Group
https://www.omahamediagroup.com/images/uploads/monster_gallery/Omaha-Media-Group-Black.jpg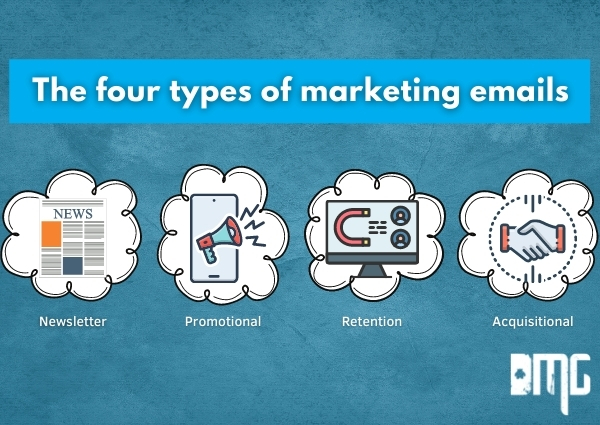 Consumers check their emails while watching TV, before they go to bed at night, at work, and even on vacation. With billions of emails distributed each year, it is important to understand the different types of marketing emails that a business can use to increase its brand awareness, lead generation, and customer retention.
1. Newsletters
Opt-in marketing email campaigns such as newsletters can be seen as one of the most basic types of marketing emails, but this basic email is known to improve brand awareness and even increase followers on social media channels.
This is because a newsletter is designed to inform and update clients, new customers, and current customers about the business or its industry.
The best part about a newsletter is that it is often a campaign that works off of several already published and released marketing campaigns.
The best way to get started with a newsletter is to think of it as a hub. The hub directs the target audience to the necessary information to take final action.
2. Promotional
Who doesn't love a good deal? 10 percent off your next purchase? Deal. Promotional emails are one of the best ways to distribute your latest deals and sales to those who are directly purchasing products or services.
The best part about promotional emails is that they do not have to include a 10 percent off code. In any industry, an email marketing campaign can be turned into a promotional campaign in different ways.
Did you finally finish that ebook you have been working on night and day? Promote it! Get a landing page up on your website, link that page back to the email, and have consumers sign up to get the ebook.
3. Retention
Research shows that it is more cost-effective to retain customers than to onboard new ones. Even if a business has a five percent retention rate, it can increase their return on investment by over 25 percent.
Customer retention is not only important for revenue generation but for brand awareness and loyalty as well. As hard as you work on retaining customers, don't forget that there are several ways to do this, and one is email marketing.
Haven't heard from that client in a while? Send them an email to follow up. Have you noticed that several loyal customers have gone quiet? Send them an email.
If it costs less over time to continue to work with current clients - make sure to follow up with them.
4. Acquisitional
This is one of the more popular types of marketing emails because it is all about sales.
If you have something that people do not want, then they will never open the email. The very first step in the process of creating an acquisition email campaign is to ensure that your email list is filled with consumers who WANT to purchase the products.
Get a great digital marketing strategy in place to make sure that the right consumers are signing up for your emails.
From there, it is all about creating and properly distributing said emails. When it comes to acquisition emails, make sure to implement segmentation.
Segmentation of email campaigns allows for different types of emails to be distributed throughout the different stages of the sales and purchase process to smaller, more focused groups or individuals.
In the end, email acquisition really depends on how strong the email marketing list and segmentation is.
These types of marketing emails can help any business or organization increase its ROI, brand awareness, and customer loyalty. These are only four types of email marketing campaigns that can be implemented into your strategy, but there are so many more!
For more information on email marketing and all of the different types of email marketing, contact us today.
Share this post
Comments