Late seasonal marketing strategies for your small business
Late seasonal marketing strategies for your small business
/images/uploads/blog/Dallas_Media_Group-10.07-Blog_.jpg
Omaha Media Group
https://www.omahamediagroup.com/images/uploads/monster_gallery/Omaha-Media-Group-Black.jpg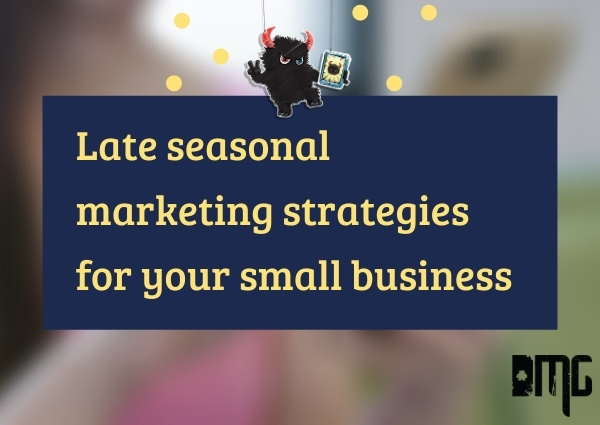 Website performance, social media marketing posts, email marketing and other top performing strategies can be a bit iffy during the holiday season. While the witches are boiling their stew and Santa is getting ready with his elves, this seasonality can be one of the lowest performing quarters for some companies while others will be thriving until the end of Q1!
It just happens like that in any industry or business, there will always be slow seasons, but for small business owners during a global pandemic and holiday season, there is a bit more stress to outperform the lows of last year.
With this in mind, a seasonal marketing strategy should have been implemented about 30 days ago. In the seasonal marketing world, there is the mark of "90 days before shopping" begins and this is the time where consumers start their holiday season shopping madness.
What should a small business, niche or startup promote and do this holiday season?
1. Keep it simple!
The thing with any seasonal marketing strategy is that it can be as simple or as complicated as you want it to be. The first step is to speak with your marketing team, agency or team to figure out what type of content would be relevant to your audience and consumers. Even if it is as simple as changing headers and profile images on social media platforms to match the season, it doesn't have to be a 12 week campaign.
On the other hand, are their specific products and/or services that your consumers would find useful going into the new year? Even though it is the holiday season, what about the new year? As a business owner, management or administration, you know companies are reviewing their budget for Q1 if not Q2.

2. Seasonality in search queries
This gets a bit complicated this holiday season, not only because search queries have shifted due to COVID-19, but because of the holiday season items. Depending on the upcoming holiday or queries and trends during that time frame, a company can grab onto that season and its trends to increase their website traffic, qualified leads and even sales!
It is important to find keywords and conduct research around those big holiday calendar dates, but are there smaller, more important dates that your company should utilize but is missing out on? Yes, Halloween, Thanksgiving and Christmas are all super important and companies should market for this, but what about a national holiday specific to your industry?
It is imperative that keyword research is conducted for each different blog, promotion or Google Ad campaign because this is what will drive consumers to the website or final destination of the GoogleAd campaign.
For a small business who is competing with a large and competitive industry, it might be best to utilize those lower volume keywords to garner the right lead generation and not waste any more marketing dollars because the truth is, those high volume keywords everyone wants, take some serious time and if you are just starting a holiday campaign without some serious cash behind it, it probably won't happen in two months.
3. Have the ability to repurpose it!
Hey, small businesses, it is important that this holiday marketing campaign has a seasonal marketing strategy behind it, but what about thinking about long term strategies. Are there any other ways this campaign could be utilized throughout the year? This could be a teaching moment to understand that planning, strategy and execution of a single campaign does not have to be to one campaign.
This is a learning moment that shows that this campaign can be implemented into others with new or different products and/or services. Work smarter not harder as they say! Keep the data from this campaign as well to utilize for next year! Always think ahead!
There you have it, there are three ways to implement a seasonal marketing strategy now that can be utilized for years to come and other marketing campaigns! For help with any digital marketing strategies for the upcoming year, contact us today!
Share this post
Comments