SEO Tip: Why you need custom content for SEO
SEO Tip: Why you need custom content for SEO
/images/uploads/blog/Dallas_Media_Group-06.03-Blog_.jpg
Omaha Media Group
https://www.omahamediagroup.com/images/uploads/monster_gallery/Omaha-Media-Group-Black.jpg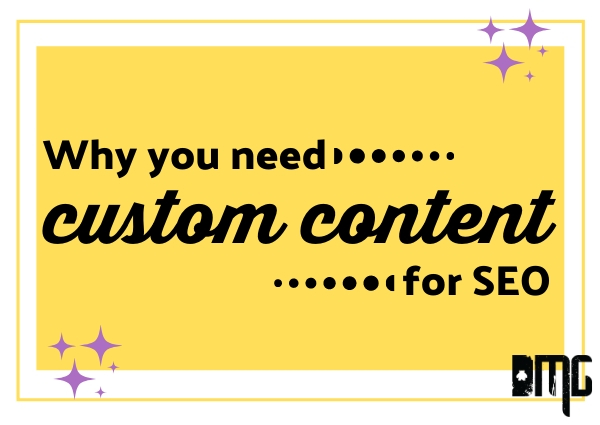 What goes together in the SEO world? Clients and agencies. Backlinks and off-page SEO. On-page SEO and keywords. SEO and content marketing strategies. Wait, content marketing and SEO. Yup, that is correct.
A company who is searching to increase their website traffic with inbound marketing efforts and more qualified leads needs SEO strategies, but cannot forget about content marketing strategies.
Our Dallas SEO Consultant is here to tell you that many new clients are very confused about this at the beginning of the digital marketing strategy. Yes, there are so many ways to do SEO that there is not one single way to produce results, but the thing is, without content a website never launches.
Without content marketing strategy there would essentially be no SEO in place because, with no content, there is nothing to optimize. (Well there is stuff to optimize, but not much, okay). While these two marketing strategies are completely different, they intersect at one point in the process.
Here is why you need custom content for SEO.
Search Engine Optimization (SEO) is the technical process of organically ranking a website on a search engine's SERP listings through off-page and on-page strategies.
When you type in a search engine, "best restaurant in North Dallas" how does it know what to populate? Are the results the best ones possible? Our Dallas SEO Consultant is here to tell you that this is based on a number of factors and the websites that are populated have passed Google's ranking factors, over 200 to be exact, and the page is the most relevant result for that search query.
Over 90 percent of the content on the Internet will never reach the top SERP results in Google's search engine results. A company that is publishing blogs or new content needs SEO. A company that is not publishing blogs or new content needs SEO. The thing is, every company needs SEO in some form or fashion to reach their overall goals.
What is content marketing?
The Content Marketing Institute defines content marketing as, "a strategic marketing approach focused on creating and distributing valuable, relevant, and consistent content to attract and retain a clearly defined audience- and ultimately, to drive profitable customer action."
Content Marketing is the creation and distribution of the content on social media platforms, blogs and other digital platforms that inform, educate, entertain and promote a company.
A number of companies find themselves improving their overall content marketing strategies, but in a recent 2020 research study, only 5 percent of marketers would rate themselves as "extremely successful" with their current content marketing strategies.
And in a year to year review with these participants, only 51 percent of marketers stated that their current content marketing strategy had improved compared to previous years.
Another shocking find in all of this is that only 33 percent of marketers have a documented content marketing strategy. As marketers, this is a scary way of thinking. Content marketing strategies are critical just as other SEO strategies are to SEO.
What type of content should be published?
Our Dallas SEO Consultant suggests an 80/20 rule. 80 percent of the content that is being distributed, shared or written deals with continuing to educate the audience on key points of the company, common FAQs, services and etc. The 20 percent deals with promotions and sales.
The balance between the 80/20 rule in content marketing strategies is what makes it so successful, and the implementation of SEO strategies helps to bring everything together.
Why you need custom content for SEO
First things first, not only do you need content for SEO, but you need quality content for SEO. Let's break down why these work together so well.
As Search Engine Land states, "content should be your first priority when thinking about SEO." As stated before, without content there would be no need for SEO.
A consumer is searching for products, services, answers, quick answers, the best search results and videos, and without content, none of this would exist. However, it is not enough for a company to copy, paste, change some content and call it a day to rank on Google.
It is also not enough to simply publish content on a website or update service pages and expect pages to rank on their own. This is where SEO comes into place. SEO is the strategy and content marketing is the result.
SEO demands content and content marketing produces the content. SEO states the requirement for the search query and content marketing answers the query. While content marketing and SEO work together, they are still two totally different strategies.
Google wants high-quality custom content. The search engine processes over 3 billion pieces of content each day, and with all that content, the content that provides an answer to the search query, is reputable and is unique is the content that is going to rank over time in search results than cookie cutter content.
At the end of the day, a company needs custom content that will help them break through the noise on search engines. A company needs custom content that is optimized with SEO strategies.
What does this mean for companies?
Either to hire an in-house Dallas SEO Consultant, or find a reliable outsourced agency who can handle the content marketing strategies and management along with SEO strategies. As a company, are you ready to bring in more qualified leads?
Bring the fish to your boat with our help. Contact us today!
Contact Us
We want to hear from you, so what are you waiting for? Contact us today.
Get In Touch
Share this post
Comments