Marketing lessons you can learn from Taylor Swift
Marketing lessons you can learn from Taylor Swift
/images/uploads/blog/Dallas-Media-Group-09.14-Blog_.jpg
Omaha Media Group
https://www.omahamediagroup.com/images/uploads/monster_gallery/Omaha-Media-Group-Black.jpg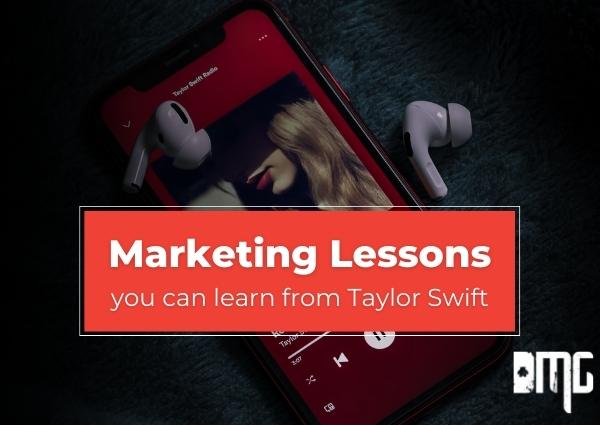 Who has not caught themselves singing along to hits like "Shake it up," "All Too Well," or even "Love Story"? You may not know the lyrics, but you certainly know the artist. These hits belong to one of the 21st century's biggest stars, Taylor Swift. Billboard named her the eighth greatest artist of all time, among the likes of Michael Jackson, The Beatles and Elton John.
Taylor Swift recently announced her 10th studio album, titled "Midnights." The announcement of her new album took the Internet by surprise. Taylor has a major influence not just on the music industry but also on pop culture as a whole. She has become a household name, and her net worth has grown by more than $150 million in the last year.
If there is anything brands can learn from Taylor, it is how to market yourself. Check out these marketing lessons that one of the most influential artists in the music industry can teach you and how Dallas marketing services can help you.
Marketing lessons you can learn from Taylor Swift
Stories sell
Storytelling is one of Taylor Swift's most important tools when it comes to building a connection with her audience. Her ability to tell stories through her songs has captured her target audience's attention and delivered messages that resonate with them. These stories are what help her connect on a personal and emotional level with her fans.
As a brand, you should do the same thing through story marketing. This practice is about creating a powerful brand story to connect with your audience and keep them engaged. Some ways to share stories are through your mission statement, social media posts, email campaigns and video content. You always get the help of Dallas marketing services to create this content.
Stay on trend
Taylor Swift has mastered the ability to reinvent her music. Her ability to switch up her sound has helped her to stay relevant throughout the years. She debuted as a country-pop artist and then transitioned to a more mainstream pop sound before she recently made her way into the indie scene. Along her exploration journey, she has gained new fans with each new evolution in her sound.
As a brand, you should do the same. The digital landscape is always evolving. What is popular one year may not be popular the same. To stay one step ahead, brands should:
Pay attention to trends

Embrace new technologies

Do market research

Analyze your competitors
Reuse and refresh old content
Aside from waiting for new content, many Taylor Swift fans are waiting for the re-release of her old albums. She is re-recording her earlier albums because this will allow her to own their masters - meaning the songs' original recordings. So far, she has released new versions of two of her old albums, with both new versions outperforming the original releases.
From this, brands can learn that you can always repurpose your old content. You can present it in a new way or reinvent it. Some things you can refresh includes blog posts, videos, gift guides, newsletters and social media posts. Just make sure to add a fresh new twist!
Upgrade your marketing strategy with one of the best

Dallas marketing services!

Whether you are a pop star or a business, a well-thought-out marketing strategy is a key to success. If you need help planning and executing a marketing strategy for your business, let our marketing experts lend you a hand. Contact us today to get started.
Contact Us
We want to hear from you, so what are you waiting for? Contact us today.
Get In Touch
Share this post
Comments