What services do we offer?
What services do we offer?
/images/uploads/blog/Dallas-Media-Group-01.04-Blog_.jpg
Omaha Media Group
https://www.omahamediagroup.com/images/uploads/monster_gallery/Omaha-Media-Group-Black.jpg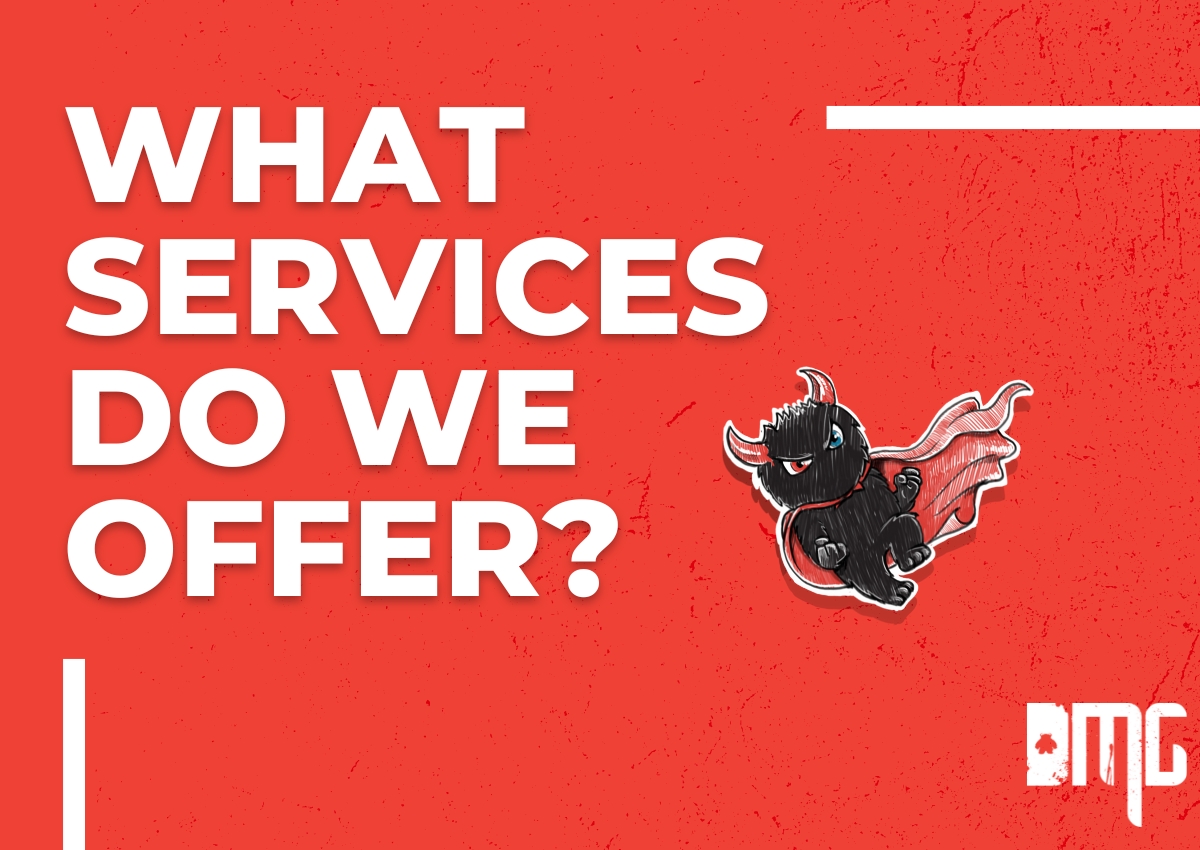 Do you need an extra helping hand with your company's digital presence? That is where Dallas Media Group can help you out. We are a multi-award-winning Dallas marketing services privately held in the Midwest, with two locations in Texas and one in Denver.
As Dallas marketing services providers, we also offer various services, from web and app development to social media management. But our work goes way beyond that. Here is a list of all the services we provide for small and large businesses looking to improve or grow their digital presence.
Dallas Media Group's services
Web design and development
Are you looking to build a brand-new website or update your existing one? We can assist. Our team of web developers can build you a custom website and give your business the professional brand and technology it deserves. Why should you choose us? We provide custom website design, quality code, content management system (CMS), DMG Universal API and versatile design and development. Learn more here.
Digital marketing
Digital marketing is about promoting your product or service through using various digital channels - such as social media, email and search engines. Figuring out how to make all these channels work together to meet your company's goals does not have to be rocket science. At Dallas Media Group, our experts can design a digital marketing strategy that will best suit your company's needs. Check out our digital marketing service page here.
Search engine optimization (SEO)
What good is having a website if users cannot find it? That is where an SEO strategy can help. Let our SEO experts build a custom SEO and SEM strategy that will help you increase your website's visibility on search engines and meet your company's goals and KPIs. For more information about our SEO services, check out our service page here.
Mobile application development
Mobile apps are helping companies connect with their customers more directly. In today's competitive market, you want to create a mobile app compatible with all devices. At OMG Austin, we will build your company's mobile app to be compatible with iOS, Android and Windows devices. Here is our mobile app development service page to learn more.
Social media management
Your company's social media is one of the best ways to reach new customers and build relationships with your existing customers. Managing your company's social media can be time-consuming if your marketing team is only one person. You can get an extra helping hand from our social media management services. Our Dallas marketing services team can assist in writing content, scheduling your posts and monitoring all your social media activity, so that you and your team can focus on other tasks. Check out our social media management page here.
Email marketing
Email marketing is still considered one of the most cost-effective ways to market your business. A report found that 59% of respondents say marketing emails influence their purchase decisions and 80% of business professionals believe that email marketing increases customer retention. You can create an effective email marketing strategy and automate it with our help! Learn about our email marketing services here.
Pay-per-click marketing (PPC)
One of the best places to advertise is on search engines, where people are actively searching for your products and services. One of the best ways to accomplish this is by creating an effective PPC marketing strategy. That is where our Dallas Media Group team can help you reach those customers through a savvy and targeted PPC strategy. Check out our PPC marketing service page to learn more.
Marketing automation
You can optimize your company's digital marketing through the use of marketing automation platforms. If you need assistance in choosing the best automation tools, we can take the guesswork out of using marketing automation tools. Our team can combine email, social media, search marketing and online PPC in a strategic way specifically tailored to your business. To learn more about our marketing automation services, check out our page.
Financial application development
Are you looking to build a financial app for your business? Let us assist with our financial application development service that is designed to offer banks and financial institutions the freedom and cost-efficiency of reliably outsourcing the maintenance and enhancement of their financial solutions. Here is our financial application development service page to learn more.
Contact Us
We want to hear from you, so what are you waiting for? Contact us today.
Get In Touch
Share this post
Comments