Next step: Creating strategic content marketing for leveraged business growth
Next step: Creating strategic content marketing for leveraged business growth
/images/uploads/blog/Dallas_Media_Group-03.17-Blog_%282%29_.jpg
Omaha Media Group
https://www.omahamediagroup.com/images/uploads/monster_gallery/Omaha-Media-Group-Black.jpg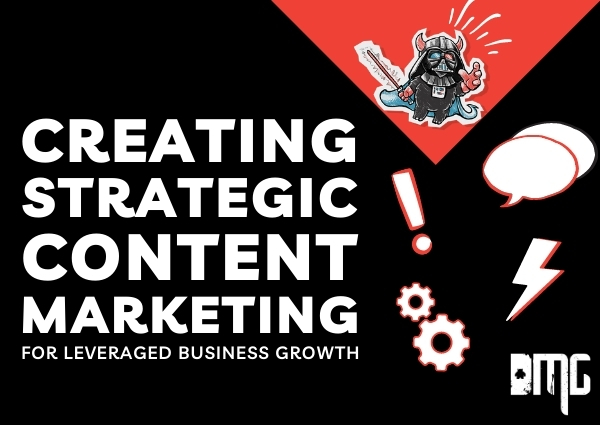 As companies, marketers, management and C-Suites, the adaptation of digital marketing efforts should continue to evolve with the digital world. Content marketing is growing more and more, especially in the B2B community.
As sales funnels continue to grow and develop based on consumer behavior and generational changes in purchasing behavior, marketing firms in Dallas suggest that content marketing that supports these sales funnels is the way to guide them through their buying experience.
This helps to leverage the content marketing strategies to show the lead generation and growth over time, along with the increased website traffic, SEO ranking, social media marketing impressions and so much more.
This is how to continue the digital process to support business growth and development.
Do you understand where your audience is coming from? The marketing persona is a way to model customers and their buyer persona. From the fictional buyer persona, a company can find itself creating even more strategic marketing efforts.
This is because this "customer" is their prospect, the one who will purchase services and products, and crafting messages that do not resonate with the audience and nurture leads will not produce any results.
If you want to reach women executives, this persona will be "Erica" not "Persona-Buyer B". It is suggested to name each persona versus vague description because it brings it all together as the process continues on.
Emily works at X agency, is the Executive Director of Technology, has these pain points and this is how we can work her through the sales funnel.
Without understanding this question first, it doesn't work, ever.
Which content has worked?
To leverage content marketing strategies, marketing firms in Dallas recommend reviewing any content or pages that are currently bringing in traffic from search engines and social media platforms alike.
These insights provide companies with invaluable insights into their current audience. Google Analytics can provide a way to create personas right from current analytics, pages and content. From top devices, geographical areas and even more.
What's the plan?
Moving forward, this is where the concrete plan has been established and will provide the content marketing strategies.
As the questions above have been solidified, let's build the first piece of content together based on sales funnels. Get a content calendar in place! You'll thank us later.
My Frugal Business provides a great B2B and B2C sales funnel below:
Since the development of original sales funnels in traditional marketing efforts, digital strategies have transformed this to be more targeted and approach each step in different ways.
The first B2B sales funnel is a bit more traditional, and since it is Business to Business marketing, the sales funnel is traditionally longer.
If companies are creating content for this sales funnel, this is how content marketing can be leveraged!
Awareness stage
The awareness stage is known simply as the brand awareness stage. For companies that are breaking into an industry, or for older, well established companies who are breaking into the digital sphere, it is imperative that branding and brand awareness campaigns are part of the beginning content marketing strategy.
This answers the questions that prospects would have during this stage. What is your company providing? Its core values? This content should provide an "a-ha" moment!
Interest stage

This is the engagement and introduction stage of the process which means content marketing needs to further develop into targeted content, emails, and/or newsletters.
This is the moment when a company has fulfilled the "contact us" form or signed up for the promotion, this is also where any helpful information regarding information and research can help to develop the relationship even more.
This content will answer the pain-points that are established at the beginning of the funnel. This is content that answers the following:
What can we do for you?

What products and services do you need?

What are you missing from your current strategy or business?
These three questions can be answered with Evergreen content marketing. This is content that will never go out of style, but can be updated for years to come and answer these pain points and continue to nurture this "interest" stage of the funnel.
Consideration stage
The consideration stage is identified by HubSpot as, "the buyer defines their problem and researches options to solve it. Prospect has now clearly defined and given a name to their problem or opportunity. Is committed to researching and understanding all of the available approaches and/or methods to solving the defined problem or opportunity."
The sales meeting really matters at this moment, and at the same time, so does the content marketing on digital platforms or email marketing.
These consumers are figuring out the pros and cons of the products and services, figuring out if they are really worth the overall investment, and if it will leverage their company's growth year after year.
Intention stage
To get to this moment, the consumer is reaching back out or following up on products and services, this is when a demo can happen and conversations regarding pricing come into the bigger picture. Remember - what can you do for them?
Why is your product the best? What makes you different from the competition? This is the moment to sell it all.
Evaluation stage
This is the final decision, right before the purchase, what would be the final piece of content on social media, email blasts, follow-up meetings, newsletters or any other piece of content that would finalize the sale?
With the right "push" of content, it can provide the last decision for the signing of a contract or the purchase of the products!
Creating this strategic content marketing based on the customer's journey, buyer personas and lead nurturing can help a company to leverage its growth and marketing strategies year after year.
Hire us!
As one of the leading marketing firms in Dallas, Texas, we can provide companies with a comprehensive content marketing strategy that includes, but is not limited to, social media marketing, email marketing, SEO and blogging strategies that help to define and grow leads and brand awareness week after week.
Call us and let's chat.
Contact Us
We want to hear from you, so what are you waiting for? Contact us today.
Get In Touch
Share this post
Comments