Paid search versus organic search
Paid search versus organic search
/images/uploads/blog/Dallas_Media_Group-10.02-Blog_.jpg
Omaha Media Group
https://www.omahamediagroup.com/images/uploads/monster_gallery/Omaha-Media-Group-Black.jpg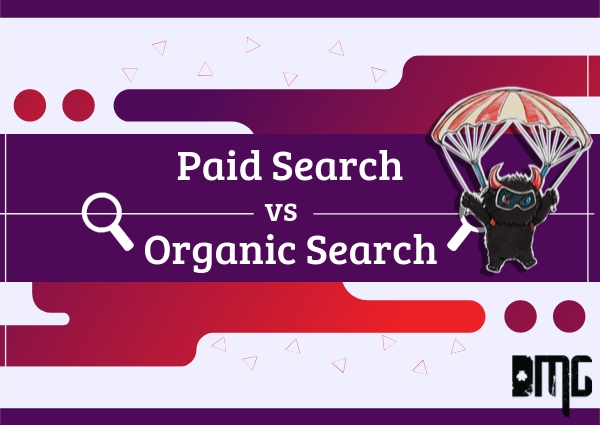 What would your business benefit from more? A paid search strategy or an organic strategy. First things first, what is the difference and which is better in certain instances?
This type of advertisement is not anything new, but along with SEO strategies, businesses are implementing a Pay Per Click strategy Dallas into their marketing budgets. This is because more and more consumers are turning to the Internet to search for products, services or a business. To be exact on how many searches there is about 160 billion.
Yes, consumers are performing more than 160 billion searches per month on Google. This is on Google alone, this does not include Bing and Facebook Advertisements.
A critical part of these searches is paid search. Paid search, also known as Pay-Per-Click (PPC), is a form of digital marketing that allows for businesses to bid, win and advertise on Google and Bing search engines. The intent of this advertisement is to attract consumers to click on the ad which takes them to a landing page on the website.
What is the biggest reason that businesses are turning to PPC ads? This type of advertisement is generally cheap and produces a quick turn-around.
When a consumer searches for "SEO Dallas TX" the websites that are on the first page of the results is what organic search provides consumers. Organic search results are the listings that match as closely or directly to the what the consumer is searching in Google.
What other results could show up? "Local SEO Dallas, SEO Agency, Best SEO Companies Dallas."
The biggest notion to understand with organic search is that overtime these websites various pages rank slowly over time. This page might start off at 100 but move its way into the top 10 on the first page in months or years.
Businesses tend to struggle more with organic search because it does not bring an instant result. It takes months to years for consistent first page ranking.
Both are necessary in business. Yes, both strategies. When would you choose one over the other?
As we stated above, we suggest using both organic and paid search strategies, but there are cases where one over the other would be best.
Paid search
A client needs to grab the attention of their target audience quickly because of a new promotion, rebrand or to grow their traffic. No matter the reason, a PPC ad can get their website in front of thousands of searchers a day. This is because a good pay per click strategy Dallas team could figure out the best keywords to use and produce the best cost.
Another example is if a client has a specific promotion, an allocated budget that is small and needs to drive traffic and sales during a specific time period. A PPC ad could be the most beneficial usage of this small budget to produce the best outcomes.
Organic search
Do you remember the childhood story about the tortoise and the hare. The tortoise was off to a slow start but ended up winning the race! This is how organic search strategies should be used. A slow and steady growth over a long-period of time. This is good and bad for businesses.
Once a business is established in that top ranking position, competitors can use all the PPC ads they want, but once the ad is over, your business will still be ranking there.
A business is who is searching for a long-term goal, brand awareness and ranking should use organic search strategies set in place by a leading SEO Dallas TX company.
Now, the best of both worlds is to combine the strategies over time!
Combination!
Yup, we are throwing a loop-hole here! A strong ranking with organic search can help your overall PPC ads. This increases brand awareness fast but also lets a business work on their organic strategies at the same time. This still provides a business the ability to promote a product during a time period but rank overtime in different areas of their industry.
So, at the end of the day, use both strategies. You can start with organic and integrate paid or vice versa. No matter what, find a knowledgeable company to help you with this.
Contact Us
We want to hear from you, so what are you waiting for? Contact us today.
Get In Touch
Share this post
Comments