PART 1: Top digital marketing strategies for 2020
PART 1: Top digital marketing strategies for 2020
/images/uploads/blog/Dallas_Media_Group-01.15-Blog_.jpg
Omaha Media Group
https://www.omahamediagroup.com/images/uploads/monster_gallery/Omaha-Media-Group-Black.jpg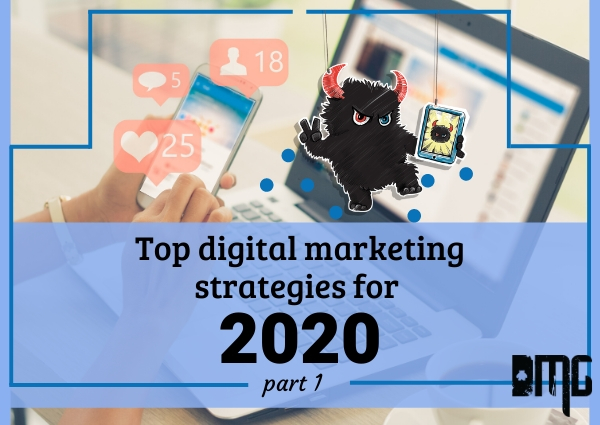 The world of digital marketing continues to evolve each year with algorithm changes, SEO updates, Core Algorithm Updates and everything else in between. The industry itself can be a worldwind and difficult to keep track of. Do you even know some things to implement and what to get rid of? Maybe you could optimize? AH!
Are you ready to dominate 2020? The best marketing agencies in Dallas suggest you keep reading to kill it with digital marketing this year!
Instagram
Instagram stories
Instagram has over one billion active users each month, but half of these users use Instagram stories every day! One-third of the most viewed stories are from companies! Instagram is expecting to continue to grow into 2020 with a 5 percent increase. An Instagram marketing strategy should include these types of social media marketing content along with others that correlate with the company's overall goals for digital marketing.
Instagram stories continue to be one of the best Instagram features because it provides a company the ability to advertise, reach a larger audience and brings in engagement! An Instagram story is a short video clip that stays on the profile for 24 hours. The best part? A company can add that story to their highlights on Instagram and consumers are looking at these stories at any moment!
User Generated Content
User Generated Content continues to be a trend in the digital marketing industry that appears to grow in popularity. Research shows that consumers are searching for an authentic branding and company, but how can a company show this? Yup, User Generated Content. This content is free, non-sponsored content that is created and posted by real life consumers who love the company's products and services!
It is really that is! A company can ask for consumers to leave reviews on a number of platforms out there, and once these reviews are left, go ahead and use them in your overall digital marketing strategy!
Influencer Marketing
Instagram is the main social media platform for Influencer Marketing. As BigCommerce states, "Influencer Marketing is when companies partner with influencers in order to increase brand awareness or conversions among a specific target audience."
Influencer Marketing has marketing companies and budgets with over half of companies spending HALF of their budget on influencer marketing, but is it worth it? The verdict shows that influencer marketing is worth the investment; however, a company needs to find the right influencer. A company that partners with an influencer who has a lot of followers, but is not the right influencer for their business, will notice that sales and conversions might not bring the right outcome.
This is because there are levels to influencer marketing! There are micro and macro influencers and the right one should be chosen. Not sure who to partner with or where to find influencers? Call one of the best marketing agencies Dallas for more information!
Facebook
Research shows that Facebook is the number one social media marketing platform for marketing agencies and companies to promote their products and services; on the other hand, with the decline of organic reach for companies, other strategies will need to be implemented to bring in those sales.
It is estimated that video will account for 85 percent of all Internet traffic! Yes, content is still king, but video marketing might be coming for its spot. When it comes to Facebook, it is imperative to start utilizing video with your Facebook marketing strategies. This is because videos give consumers more confidence and knowledge about purchasing products or services online while improving engagement which can increase organic reach!
Now, a company cannot just post any type of video and think the sales will start to come in. It needs to be relevant to the target audience, the best time-length and have subtitles for viewing without headphones!
Contact Us
We want to hear from you, so what are you waiting for? Contact us today.
Get In Touch
Share this post
Comments