SEO in the healthcare industry
SEO in the healthcare industry
/images/uploads/blog/Dallas_Media_Group-08.26-Blog_.jpg
Omaha Media Group
https://www.omahamediagroup.com/images/uploads/monster_gallery/Omaha-Media-Group-Black.jpg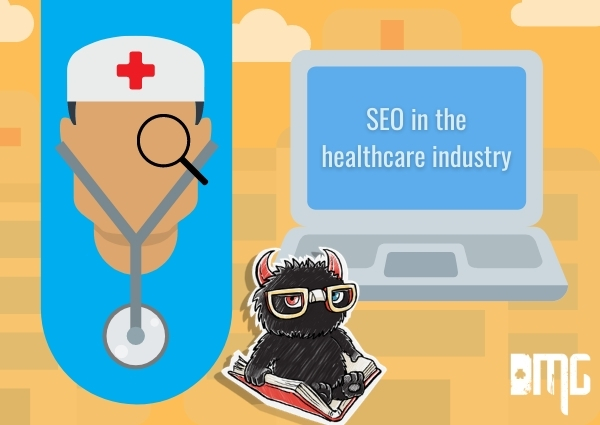 As one of the largest and fastest growing industries around the globe, the healthcare industry's net worth was estimated at over $8 trillion U.S. dollars! A successful hospital, medical practice or healthcare organization that is within this industry is in an extremely competitive market place.
With the addition of a global pandemic and the rise of Telehealth services for the safety of patients, the healthcare industry is continuing to rise in popularity.
How can healthcare practitioners, organizations, private practices and other healthcare providers all make sure that potential patients are able to find them? The short and simple answer to this question is to implement Search Engine Optimization (SEO) strategies within their marketing budget.
Dallas Media Group's Dallas SEO Consultant recommends that all companies from small to large implement SEO into their current marketing strategy, but here are medical SEO tips for the healthcare industry.
Why is SEO important?
Search Engine Optimization (SEO) is a combination of on-page and off-page organic technical strategies that involve keyword research, market analysis, competition analysis, content marketing, backlinking and so many other strategies all in an effort to help a website rank organically in search engines, like Google.
It is estimated that 90 percent of the content that is published on websites will never see the first page of a search result. There are several different reasons why this content never sees the first page of Google from a lack of relevance to a lack of SEO.
No matter the reasoning behind this, it is important for all companies to understand that without SEO in place, there is a small change that your organic traffic might ever grow.
SEO research and marketing strategies are implemented by a Dallas SEO Consultant to bring in qualified leads and website traffic. This qualified website traffic is based around your company's audience, research of their search patterns and implementing the right keyword phrases whether they be short or long tail keywords, it is just important to get SEO into the mix.
As of 2020, SEO is one of the most important digital marketing strategies that a company can implement into their marketing budget, but with the challenges of COVID-19, SEO has proven itself to be even more effective and critical.
This is because implementing SEO helps a company grow during a time when consumer's search results and habits are significantly different. And with growing topics in the healthcare industry, right now is the perfect time to start organic SEO.
Not only because of this, but most of the time, the search results will end up with a local intention behind them. A potential patient could be heading to the local practice down the street because they appeared in search engines first.
However, one of the biggest medical SEO tips to keep in mind is a Google Update called E-A-T.
While this update does affect every industry out there, it is important to understand that certain industries feel its update more than others.
The problem with medical content is that anyone can publish anything to the Internet. And if the wrong medical information is ranking for long periods of time, it can be harmful to others. With this in mind, Google released an update in 2013 called E-A-T which stands for Expertise, Authoritativeness and Trustworthiness.
If someone searches, "Best treatment for X at home" Google wants to show results from websites that are deemed as experts and who patients trust and know they are the authority in the industry. (This is where that heavy competition comes into notion for healthcare providers).
What are the

medical SEO tips that healthcare providers should be working on with an internal or external marketing team?
Content
The reason content marketing is important for SEO strategies is because this is how a healthcare provider, organization or hospital can set themselves up as part of the E-A-T update.
The first part of the content that needs to be developed and finalized is the website content itself. The services, landing pages and PDF downloads and anything else in-between.
The second part is to have a developed and strategic blogging strategy set in place. While it is important to have custom, quality content going out on a consistent basis, it is just as important that the content is relatable for consumers and potential customers. This is all part of the customer journey and experience in marketing.
From there, it is important that this content is optimized with the proper keywords!
Keywords
Keywords are what drive search queries that land to a company's website! The right keywords bring in qualified website traffic and leads that a company is searching for, but the wrong strategy will end up short handed.
It is important that all content is optimized with relevant keywords to said content. This means start with one really big SEO strategy that breaks down keywords for each service page, landing page and etc. and implements blog keywords into this.
This is because you do not want your main services competing with your own blog content! From there, one of the biggest recommendations for this industry is to implement backlinking strategies!
Backlinks
Backlinks, also known as inbound and link building, is considered part of Google's top three most important factors for ranking in their search engine! A backlink is when one website links back to your website! The more reputable and higher authority backlinks a website has, the more reputable they are in Google's eyes!
Backlinks are an off-page technical SEO strategy that helps websites in a competitive industry to increase their organic ranking in search engines!
Share this post
Comments