The best and worst times to post on social media
The best and worst times to post on social media
/images/uploads/blog/Dallas-Media-Group-06.01-Blog_.jpg
Omaha Media Group
https://www.omahamediagroup.com/images/uploads/monster_gallery/Omaha-Media-Group-Black.jpg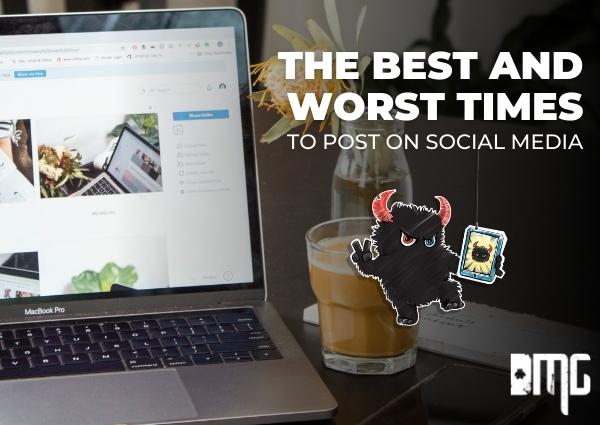 Social media continues to be a popular way for customers to stay connected to their favorite brands. People like to follow their favorite companies on social media to learn about promotions, entertainment, inspiration and new product or service launches.
With so many companies on social media, how do you make your posts stand out? Aside from creating valuable content, you should also think about the time you post. Choosing the wrong time can get your posts lost in the endless sea of social media content.
To help you pick out the best time, our social media marketing Dallas experts have created this helpful guide.
How to choose the best time to post on social media
Before we share the best times to post on social media, you should consider two things: your industry and analytics. Take into account whether your company is B2B or B2C. For example, if you are a B2B, you should be posting within the week, not on the weekends.
Then, you should take a look at your social media analytics. You want to check to see when your audience is most active. Then compare it to the best times to post down below to make an informed decision about when you should post.
The best times to post on each social media platform
Facebook
Facebook is one of the most active social media platforms. It has over 2.936 billion monthly active users. The best times to post on this platform are Mondays through Friday at 3 a.m., Tuesday at 10 a.m. and noon. It is advised that you avoid posting on Saturdays because they are considered the least active days.
Twitter
Twitter is another popular social media platform used by many major brands like McDonald's, Wendy's and many more. It currently has around 330 million monthly active users. Experts recommend posting early in the mornings during the weekdays. An ideal time is 8 a.m. on Mondays and Thursdays. Sunday is considered the worst day to post on Twitter
Instagram
Instagram has one billion monthly active users, this number includes companies from all industries. The best times to post are during the week between 5 to 6 a.m. The best days to post on Instagram are Saturdays and Sundays. The worst days to post are Wednesdays between 10 a.m. to 4 p.m. and Thursdays between 9 p.m. to 11 p.m.
LinkedIn
LinkedIn is a popular social media platform for professionals and businesses. If that is your target audience, then this platform is perfect for your company. LinkedIn has 810 million members with over 57 million registered companies. The best time to post on LinkedIn is 9 a.m. on Tuesdays and Wednesdays. The worst days to post on LinkedIn are Saturdays and Sundays.
Pinterest
Pinterest is a visual search engine that allows users to find ideas like recipes, home, style and inspiration. This social media platform has around 431 million active users. If you are thinking about posting on Pinterest, experts recommend between 8 to 11 p.m. and 2 p.m. to 4 a.m. The best day to post on Pinterest is Friday and the worst day is Sunday.
Let the

social media marketing Dallas experts help you!

If you want to take your company's social media to a whole new level, let our social media experts lend you a helping hand. They are knowledgeable in all popular social media platforms like Facebook, Instagram, Twitter, Linkedin and Pinterest. Contact us to get started!
Contact Us
We want to hear from you, so what are you waiting for? Contact us today.
Get In Touch
Share this post
Comments