The scariest small business website myths
The scariest small business website myths
/images/uploads/blog/Dallas_Media_Group-10.28-Blog_.jpg
Omaha Media Group
https://www.omahamediagroup.com/images/uploads/monster_gallery/Omaha-Media-Group-Black.jpg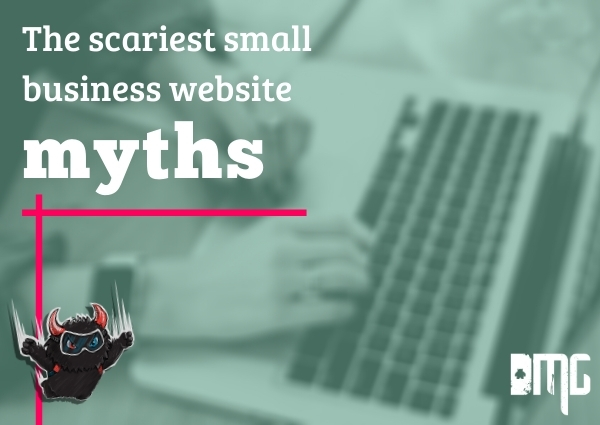 For many small businesses, they believe that a Facebook page is a great alternative to a website, but this is the wrong business strategy to follow. Many small businesses, especially newer ones, are only spending a small budget on websites and digital marketing efforts. And with older small businesses, they have survived 30 years without one, why would they need one now?
The thing is, these common thoughts are hurting small businesses from continuing to grow. While a Facebook page is great, you need more. Know that if you have lasted 30 years without a website, target audiences are changing.
Here are the five most common small business website myths that our experts want all small business owners and managers to stop believing!
You can build your own website
This is one of the scariest website myths out there that needs to stop! Just because there are companies like Wix and SquareSpace that allow for websites to be built for free, it does not mean that this is the best idea!
In fact, a DIY website can cost more money over time than a custom build website from the very beginning. For starters, those free or DIY websites do not have the right security measures set in place. Also, these websites do not allow for any customization or future growth, which means, a company ends up searching for a website design and development agency or expert to help them with their new website.
I'm too small to have a website
There is no such thing as "being too small" for a website. No matter the industry or the size of the company, all small businesses need a website! This is because if a small business wants to scale its operations and continue to compete with local competition, it is important to have a website. A website is where a number of marketing strategies will come back to and a small business's first impression with consumers.
Once it is built, you can forget about it
A website from five years ago is drastically different from the current websites out on search engines now, and even websites from two to three years ago drastically look different.
The reason why a website is never done once it is launched is because technology is constantly changing, which means, websites need to make sure they are up-to-date with the latest technology.
Another reason is because customers are constantly searching for the latest products and/or services, and with thousands of competitors locally and nationally, this is how a small business can have an advantage.
Finally, to continuously rank in search engines, a website needs to be compatible with the said search engines latest updates. A website can have a number of on-page and off-page SEO strategies in place, but if the website design is outdated this can affect ranking.
A website is just a website
A website is a website, but it is also the hub for your small business's digital presence. The very first impression, SEO strategies, social media marketing strategies, paid advertising and so many other strategies should all funnel back to a small business's website. However, for a small business that doesn't have a website, this can be a bit difficult. This also affects analytics and tracking website traffic and those marketing strategies to figure out what is and isn't working.
A custom website is too expensive
The entire website design and development project is based on a multitude of different factors in place such as the size of the website to the overall changes that are requested. The thing is, a small business website is on the cheaper side of the website design and development strategies because they are generally smaller websites.
A smaller, less complex website will generally cost less than a larger, complex website, and something else to consider is who you hire. If you hire a larger agency, it will cost more money than a smaller, more small business friendly agency.
Contact Us
We want to hear from you, so what are you waiting for? Contact us today.
Get In Touch
Share this post
Comments