Auction Industry: This is why you need a new website
Auction Industry: This is why you need a new website
/images/uploads/blog/Dallas_Media_Group-07.05-Blog_.jpg
Omaha Media Group
https://www.omahamediagroup.com/images/uploads/monster_gallery/Omaha-Media-Group-Black.jpg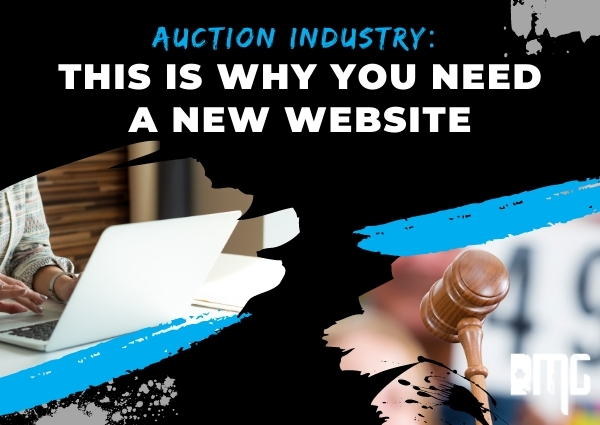 Gone are the days where word-of-mouth, phonebook, and traditional print marketing strategies alone would bring in consumers and auction goers. While those auction marketing strategies can still bring in customers due to the industry's audience, a website is necessary as the world gets more and more tech-savvy!
A website provides companies with a competitive advantage to reach their audience exactly where they are searching, and anywhere in the world if need be.
"We have a website." Great, but how old is the website? It isn't just enough to have a website anymore, but it is the first step in the digital revolution for this industry!
These are four reasons why all auction companies should hire website services Dallas team to implement the best website design and development strategies while catering to all of your audience.
Are functionality and usability gone?
When it comes to increasing sales and lead generation, "old school is cool" does not pertain to an old, outdated website that is on the verge of a security breach.
Website standards on Google's and consumer's end are now dictating a website to update their themes, custom design, security, technology and indicate the need for a brand new website if need be.
If it has been over three years since the last website update, it is behind in terms of functionality and usability.
Code can be clunky, which slows down the website, and with the implementation of online auctions, this can cause a headache for all of your online auctions.
It's also worth mentioning that if your younger audience is struggling with the website, it's going to be harder to get their attention.
Reach a younger, newer audience
As more of the traditional clientele of this industry continues to transition into retirement, their younger counterparts who are coming up in the ranks will eventually take their place.
A global study shows that most Millennials, the new generation in this industry, are managers before the age of 30 and the average age of a manager in 2021 is 25 to 29 years old.
Millennials are one of the most educated generations out there, and these consumers turn to the internet to discover and purchase new products for personal and business use.
The average annual spend of this generation alone in the United States is $600 billion. Yes, this generation spends $600 billion on products and services each year.
As they continue to rise in the ranking of companies in hundreds of industries, including the auction industry, a modern website that funnels online marketing to this website must be a priority with all auction marketing strategies.
With that in mind, how can you bring in more consumers to your website?
Search Engine Optimization (SEO)
Search Engine Optimization (SEO) is an organic marketing strategy that helps websites rank in search engines, specifically Google, with on-page and off-page optimization. Search Engine Optimization is imperative for the success of an auction company's online marketing and digital presence.
When consumer searches for "auctions near me" the results that populate are based on a number of marketing strategies that are set in place based on over 200 ranking factors that Google is searching for out of a website. Now, a website services Dallas team members cannot optimize for all 200 ranking factors, but the ones that are focused on are the most critical.
Without a modern website and SEO in place, any website in any industry can find itself in the "shadows" of Google's search results.
You would be surprised what backlinking, on-page optimization, and fresh content every once in a while will do for a company's website.
Who are you?
Who is your auction company? What is your brand? The tone of voice? If consumers do not know who you are, then no matter the strategies, the online presence will flounder time and time again. This is why you need a new website. If past, present, and future audiences are struggling to find or remember your company, how will you continue to reign in the industry?
Stay competitive and bring in more sales.
Hire us!
At Dallas Media Group, we are experienced in the auction industry from custom website design and development to omnichannel marketing efforts. Let's chat about the importance of why you need a new website and any other marketing we can provide!
Share this post
Comments