How do websites work?
How do websites work?
/images/uploads/blog/Dallas-Media-Group-09.07-Blog_.jpg
Omaha Media Group
https://www.omahamediagroup.com/images/uploads/monster_gallery/Omaha-Media-Group-Black.jpg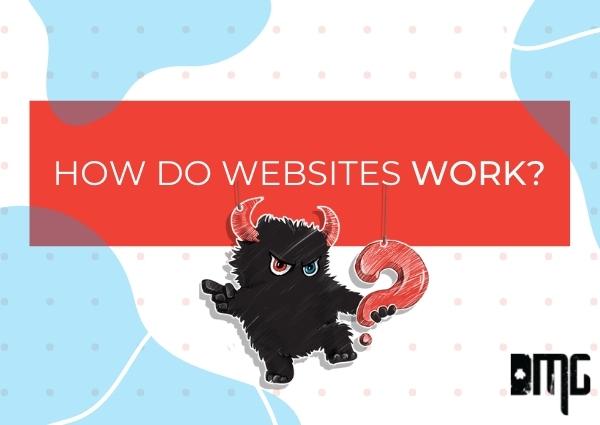 Nowadays, having a website for your business is just as important as having a physical location. It can't just be any website though, you need to make sure it has a mobile-friendly web design. Your website is the first thing that people see when they search on search engines.
One common website mistake that small businesses should avoid is not planning. Building a website takes a lot of planning. Whether you are building your own website or hiring a web design and development agency, you should learn how a website works. Check out this guide to learn the basics about how websites work.
What is a web server?
A web server gets its name because it "serves up" the right content when an Internet user wants to see a webpage. Its job is to display a website that is connected to the Internet with software that enables it to store the pieces of a website. The web server holds a site's code, images, videos and everything that makes up the site.
There are a lot of web server options available for businesses to choose from. These servers essentially rent you out a space for you to host your website. Then, users pay a monthly or yearly fee for them to handle your hosting.
What is an IP address and web address?
Now that you know what a web server is, it is time to learn about IP addresses. This term is short for Internet Protocol, which is a unique string of long numbers that help identify a device on the Internet or local network. To put it in simpler terms, it is a web address.
Sometimes, a web address is also referred to as a domain name. It is how an Internet user will find your website. In the URL, your website's domain name is everything that comes after "www." It is essentially the digital sign in front of your business that tells people where your location is on the Internet.
How a website works
A web server, IP address and domain name all work together to bring up a website. How it works is an Internet user will type a website's domain name into the browser. Then the browser will search to see which server that website is on. The server will respond with all the elements of a website. It will send everything from images to scripts. Next, the browser will then put everything together so Internet users can view the web page correctly.
How to build a website
Learning how a website works can give you a better understanding of everything you should consider when building a website. This knowledge will help you decide if you should build your own website or hire a web design and development agency.
If you choose to build a site yourself, then you can choose website builders like Squarespace and Wix to help you out. These sites require no coding, but you are limited creatively because you have to use an existing template. However, you will need to do research to learn about what kind of website your users want.
On the other hand, when choosing a web design and development agency, you just have to figure out what you want. The team of experts handles everything from the design process to the development. You can get reassurance that you will get a website as unique as your business.
At Dallas Media Group, our developers will handle everything from designing, developing and maintaining your site. Many business owners choose this option because it ensures their site will look professional and have all the essential must-haves your website needs.
Hire the best

web design and development agency!

At Dallas Media Group, our mission is to provide high-quality web design, web development and consulting services to our clients. Our web developers will build your custom website giving your business the professional brand and technology it deserves. Contact us to get started!
Contact Us
We want to hear from you, so what are you waiting for? Contact us today.
Get In Touch
Share this post
Comments