Website Design trends for 2020
Website Design trends for 2020
/images/uploads/blog/Dallas_Media_Group-11.06-Blog_.jpg
Omaha Media Group
https://www.omahamediagroup.com/images/uploads/monster_gallery/Omaha-Media-Group-Black.jpg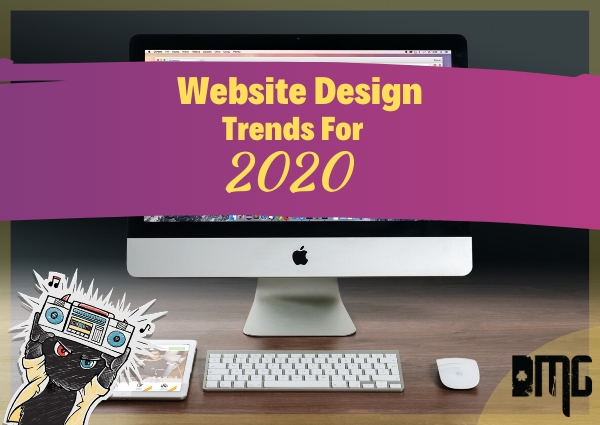 Over the decades, website design has made drastic changes from the first websites in the 90s to the end of Flash. All of this has paved the way for websites that web design Dallas TX knows and loves. As a new decade approaches, what are the newest trends?
These are the top seven web design Dallas TX trends for 2020!
Bigger, bolder and in your face is better for the new decade. Bold typography is gaining more traction with website design to draw attention to brands instantly. When an image is created, where do searchers eyes go first? The design and images with text. In 2019, content took a forward facing approach within design to grab attention quickly with oversized fonts and images.
A great example is Vero. This new social media platform is hitting the market and making a statement in several ways, but their design is minimalist with bold typography and great images.
2. Illustrations and animations
In 2017, there was a spike in animations and illustrations being introduced to websites more frequently, but with this, the animation could not slow down the website! Searchers and search engines are a tough crowd to please! Why are animations in style?
Google has stated that "A website should take two seconds to load. At Google, we aim for under half a second." So, a website should take two seconds for searchers and .5 of a second for Google? Every second counts for a company's website. The longer a searcher waits for the website to load, the more often they will back out. Once this starts to consistently happen, Google will start to take note.
This is why animation is so critical. An animation still packs a punch like a video, but is a smaller file so there is less of a chance for it to slow down the website.
Research after research shows that in 2020 about 50 percent of all search will be conducted with a Voice Assistant. That's 50 percent of searches in one month! What can anyone do living in a Google and Alexa age? User Experience needs to be on point. This will allow for the Google Home and Alexa to easily navigate throughout the website. This includes focusing on website design, content marketing and SEO strategies. Our web design Dallas TX experts and digital marketers have their work cut out for them.
Chatbots and Voice Search Assistance will continue to dominate the technology landscape for reasons ranging from convenience to reliability. This is nothing new in the website design and development industry, but it will continue to take precedence in the overall design and feel of a website.
A chatbot provides consumers the ability to easily ask their questions at any moment of the day. This chatbot provides the best links based on the questions, with that in mind, navigation will matter. A website that can easily be crawled will help to personalize the experience for consumers.
Our web design Dallas TX experts often tell clients, "less is more." The more complicated the design and development gets, the harder it is for searchers and consumers. While it might seem that a website design with tons of videos, content and images is great, the exact opposite is true. Once a consumer has to dig for the simple answer to their questions, say goodbye!
The visually impaired or blind individuals are able to navigate the Internet using technology and are searching for the same things as those who are not visually impaired.
The Americans with Disabilities Act is being used and enforced in website design and social media platforms. There is a lawsuit for any company who does not follow the 38 requirements from the ADA. This is called the Web Content Accessibility Guidelines 2.0 Level AA.
There really is not an excuse to be inclusive for everyone when it comes to websites in 2020.
7. Mobile search
As mobile search continues to dominate the search engines, these search engines such as Google are ranking those websites who are mobile friendly before those that are not. A company will not lose their ranking but the website underneath you that is mobile friendly will rank first! Is your company's website responsive?
With 2020 only one short month away, it is imperative to make sure that a company's website is up-to-date with the times! A new decade only brings more trends and updates so stop being behind!
Contact Us
We want to hear from you, so what are you waiting for? Contact us today.
Get In Touch
Share this post
Comments