I hate my website, what do I do?
I hate my website, what do I do?
/images/uploads/blog/Dallas_Media_Group-11.13-Blog_.jpg
Omaha Media Group
https://www.omahamediagroup.com/images/uploads/monster_gallery/Omaha-Media-Group-Black.jpg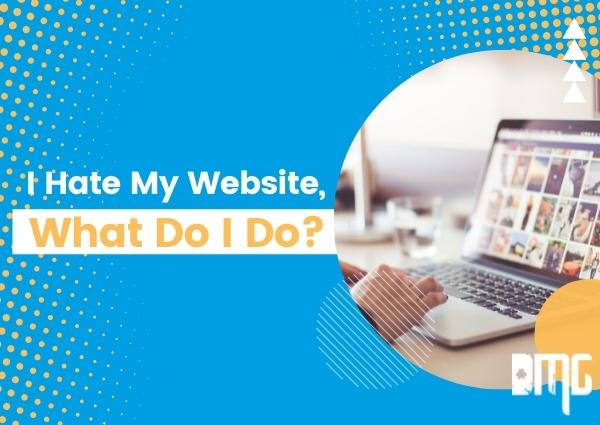 There are times when the word hate describes something perfectly, and when it comes to a company's website, hating your current one is okay. When the site was launched, it might have been perfect, it was brand-new, loaded quickly, had all the needed features, but as time went on, it might have gotten a bit old or it doesn't present who your company really is.

What are the top elements that currently make you hate your website? There are plenty of things that could be causing this hate, and as a leading web design and development agency, our designers and developers have heard it all.
These are the most common reasons our experts hear, and this is what to do about it.
1. It isn't mobile-friendly
In 2021, 56 percent of website traffic took place on a mobile device. Since the rise of mobile search queries in 2016, Google continues to put an emphasis on mobile-friendly websites, so much so that one of their largest updates includes this as a necessary ranking factor.
What makes a website mobile-friendly? A website is mobile-friendly if it is usable on both mobile and desktop devices and it is able to modify itself to fit the screen it is being viewed on. While it takes a web design and development agency to make sure your website is mobile and desktop friendly, it is worth the investment.
It can bring in more leads and sales, increase positive first impressions, brand awareness, SEO, and have you fall back in love with your site.
2. Misrepresentation
A website is the first impression that consumers will get about your company. Whether the content is older and no longer relevant or the brand voice is a bit off, the misrepresentation of your company can hurt your brand awareness.
This means having relevant information on your site is the first step in driving marketing and setting yourself up for success in SERP. The customer journey to their final destination can be extensive. Whether the journey is for transactional or informational reasons, it is important to answer the necessary questions along the way.
A website that looks outdated, spammy, or has thin or confusing content can potentially end a customer journey right on that page.
This means establishing your company as an industry leader through proper omnichannel marketing strategies through digital marketing!
3. The design is outdated
A website has less than three years before it is considered obsolete. If you find yourself saying, "it is just old, or do we hate it?" It is too old. Can you imagine how consumers feel? While a website design and development project can be a large investment, when invested with the right web design and development agency, it can be worth it for years to come.
This is because a properly designed website can grow with your company for years to come. Another DIY website will result in the same outcome, and for the most part, it will probably cost the same over the life of the project in the end.
4. DIY frustrations
Your friend who designed and developed your website for free is a great friend, but maybe not a professional friend. If that isn't the case, did you find yourself developing on Wix or Squarespace?
Is it worth the short-term investment? Another common thing is having a company develop the website on WordPress and then passing it over. While it is the largest CMS out there, our developers don't use WordPress for a reason.
Call professionals
Stop hating your website today! A professional web design and development agency can provide your business with the website solutions that you have been searching for all along. And the best part about working with our team is that we have in-house marketers who can help you once the website is ready to launch!
Contact Us
We want to hear from you, so what are you waiting for? Contact us today.
Get In Touch
Share this post
Comments