Five signs that your website needs updated
Five signs that your website needs updated
/images/uploads/blog/Dallas_Media_Group-05.27-Blog_.jpg
Omaha Media Group
https://www.omahamediagroup.com/images/uploads/monster_gallery/Omaha-Media-Group-Black.jpg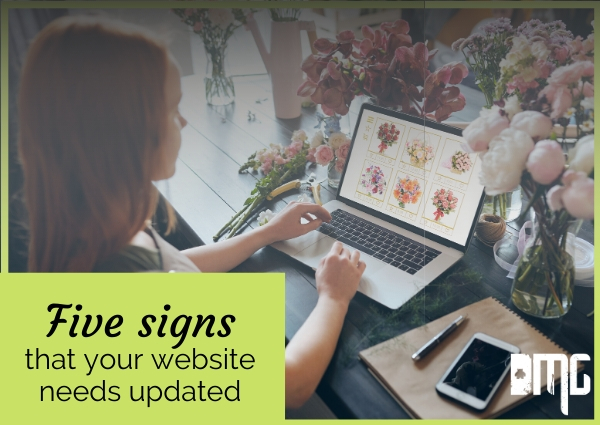 A website is one of the most important elements of continuing a successful online and digital company. A website that is mobile friendly, responsive, has proper content and navigation and other critical elements can bring in qualified traffic, leads and sales in conjunction with marketing efforts in place.
Four out of five consumers start their research online when searching for more information, products and services. What are consumers' overall impression of your website from its design to its functionality? It is not about "keeping up with the Joneses" but making sure that the first impression of searchers and search engines is a positive one.
A company has less than three seconds to make that first impression and without these five notions updated in 2020, a company can be missing out on leads.
Its slow to load
A slow loading website is one of the first signs that a website needs to be updated! Google expects a website to load in less than half a second and consumers expect it to load in less than two seconds! Google will prioritize a website that is faster to load. Even if you publish the best blog of the decade, if the website is slow to load, it will not be ranking as high as other blogs.
Another notion to consider is that consumers have millions of options at the click of their mouse. One of the most common lead generation losses is a slow website. Lead generation is what a website is all about in the digital and marketing world. If a website is slow to load, visitors read less which slows down lead generation and the website becomes more of a pain than it really is.
What causes a slow loading website? A slow loading website can be caused by a number of factors that a company cannot and can control such as:
Server and server locations

Too much traffic

Large photos and videos

Code density

RTTs'

Plugins

Redirects

Outdated CMS
A website design should be updated every two years at minimum to keep it up to speed with the changing Google Development Guidelines, design trends and keeping it secure for consumers.
It's outdated
Dallas Media Group, a Dallas web design agency, hears this all too often during the initial meet and greet meetings, "The website is just old and we don't love it." We are here to tell you, don't let it get to this point.
If you hate the website and how it functions, imagine how consumers are feeling? Are they frustrated that they can't find information? Annoyed? All the negative emotions? Probably.
Not only does an outdated website frustrate consumers, but it also frustrates employees. It can frustrate the sales team that there is a lack of infrastructure and capabilities to update the website itself. The marketing team can struggle to get the results that are expected of them because of the old, outdated website. The HR department and recruitment team can have a difficult time finding contact information or struggle with recruitment in general.
As Jordan Crown states, "If you neglect to invest in your online presence, your company can lose its attractional value with employees (or vendors)."
As a company owner, the management team, C-Suite or other decision-makers often only focus on their consumers, which is great, but employees' overall satisfaction with a website is just as important, if not more important.
Is it secure?
With the latest Google update in place, a consumer will see if a website is secure or not before continuing to your website. This is located next to the URL. This website URL is secure, but if it wasn't, it would say "Not Secure" next to "support.google.com."
Website security tells consumers that this website is secure and their information is safe from cyber attacks and security threats, and without proper security measures in place, a larger pop up could show that would make consumers immediately back out of the website!
No website out there is safe from hackers, but it can be avoided with a simple update here and there! No matter the Content Management System in place from ExpressionEngine to WordPress, always keep up to date with security updates and new features. These new updates and features are set in place to keep your company and consumers safe.
With that in mind, a number of clients do not consider their hosting security. Our Dallas web design agency always tells clients that hosting with a less reputable company can cause security breaches and threats.
Search Engine Optimization (SEO) purposes
Quick, Google your company. Next, Google a common phrase you think your target audience would use! Are you showing? If so, what is showing and who is ranking above or below you? Search Engine Optimization (SEO) is the difference between a company ranking and a company continuing to lose potential customers.
However, SEO optimization is more than adding some keywords to your website and backlinks and calling it a day. A website that is outdated will struggle to rank even with the best strategies. This is because the design, development, responsiveness and strategies in place and about 195 ranking factors all affect SEO.
Not only does it affect organic SEO strategies, but it also affects paid strategies in SERP. The advertisements holding the first and bottom spots of the first page of the search engine are part of Search Engine Marketing (SEM) strategies called, Pay-Per-Click (PPC) ads.
Not only does a company spend more money on advertising efforts to make up for their lacking website, some older websites really cannot support SEO in the best possible ways.
Usability
Usability in the digital world means that a website is accessible at any time and easy to navigate. A website provides accessibility to a company 24/7. There are no longer traditional sales strategies where a consumer has to wait until regular business hours to reach someone.
How easily can a consumer navigate through the website? Are there pages and points where you are confused or stuck? The importance of usability in website design to providing a seamless experience for consumers to fulfill the sales funnel set in place. If a consumer lands on a ranking blog, how easy is it to go to the services page?
All of this matters, even if it seems like the smallest aspect of a company. Our Dallas web design agency is here to tell you that usability is one of the most important aspects of anything else on this list.
Notice that the company website has one, three or all five of these elements that are desperately needing to be updated? Give our Dallas web design agency a call today!
Contact Us
We want to hear from you, so what are you waiting for? Contact us today.
Get In Touch
Share this post
Comments