Small business SEO Tips: Three factors to focus on
Small business SEO Tips: Three factors to focus on
/images/uploads/blog/OMG-Dallas-04.07-Blog_%282%29_.jpg
Omaha Media Group
https://www.omahamediagroup.com/images/uploads/monster_gallery/Omaha-Media-Group-Black.jpg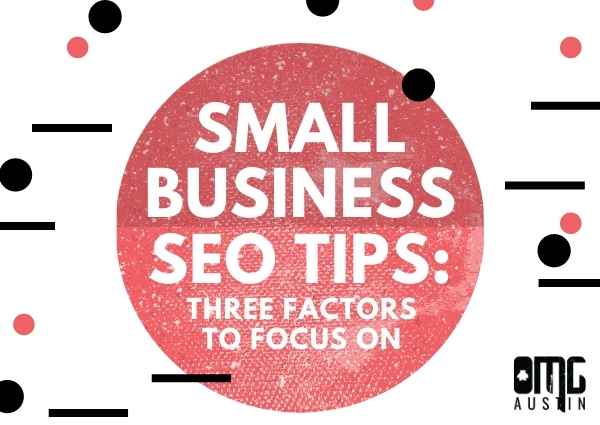 Search Engine Optimization (SEO) provides a strong foundation for small businesses, and when done correctly, can bring in online and in-foot consumers to your business.
Research shows that 81 percent of users go to a search engine to find a website. This shows that in some form or fashion a small business needs to implement SEO strategies alone or with paid marketing strategies and SEO.
To be found on search engines for the long-term, small businesses have to implement some type of SEO strategy to continue to grow their business.
Should you hire an SEO expert?
Small business SEO expert
Small business owners are working on average 60 hours per week, but these business owners are also under a lot more pressure than other owners. This is because trying to balance work/ life, always being on the job, and having fewer employees to help with offloading workload and etc.
While the argument can be made that this is how most businesses operate and owners, CFOs, Vice Presidents and others are under the same pressure, there is the ability to off-load and delegate more tasks.
For small businesses, there is not time for hands-on business owners to implement their own SEO strategies while maintaining it.
With this in mind, what should small businesses focus on when it comes to SEO?
As Ahrefs explains with a family member's local business, it is booming and does super well, but their organic search and SEO stinks! (He said it, not us!) Without understanding what they need out of SEO, it is difficult to hire an agency, internal team or SEO expert.
One of the biggest elements that a small business needs from a small business SEO expert is local SEO strategies. An emphasis on local SEO is imperative for the online and in-foot business.
From plumbers to catering companies, any of these local businesses are eligible for ranking higher in their area with local SEO strategies.
Consumers' intentions are to find a local business before trying to find a national brand or company. Statistics show that 46 percent of consumers who are searching for a product search locally.
If a customer is searching for "best pizza in Dallas" the results that populate are based upon local search results and intentions from consumers. This consumer is searching for a pizzeria to immediately order take-out from or dine in for lunch or dinner!
When choosing keywords to target for different strategies, there is a tendency for clients to want to go for those keywords that every single other company in the industry is going for. This does work, and is part of the strategy, but what are the local search intentions of your consumers?
There is a tendency to discredit those low to medium volume keywords, but in our experience, those keywords are what drive traffic that helps to elevate those larger volume keywords.
There are two main points behind search intentions: they are searching for a product to buy now or they are doing their research.
A consumer is searching for a specific store with small businesses with a local intention. If a consumer searches for a "jewelry store" this means they are searching for the closest one, but one in Oklahoma.
3. Implement a blogging strategy
Blogging content is a way to produce custom content each week, bi-weekly or even monthly that Google is searching for.
With the implementation of relevant keywords and information that answers the search intentions listed above, this helps bring in more traffic to the website, and in different areas of the site.
A blog can help to spread the word about your business and create long-lasting relationships with other businesses by highlighting and writing content about local businesses you partner with. This can bring in referral traffic to your business.
A blog can be a big part of advertising your business. What is so great about your small business? What is the difference between you and the competition? How are you showing Google and searchers that you are trustworthy and are a real business?
Conclusion
With so many decisions to make with a small business, it is important to have SEO implemented sooner than later. It can seem like the last thing your small business needs, but the longer you wait, the more sales and lead generation you are providing to the competition.
Don't be like the small business Ahrefs speaks about in the first paragraph, be the best local business with a killer SEO strategy. We can help you! Contact us today for a local SEO marketing campaign.
We can help you! Contact us today for a local SEO marketing campaign.
Call us now!
Share this post
Comments