What really is mobile-first design?
What really is mobile-first design?
/images/uploads/blog/Dallas_Media_Group-04.21-Blog_.jpg
Omaha Media Group
https://www.omahamediagroup.com/images/uploads/monster_gallery/Omaha-Media-Group-Black.jpg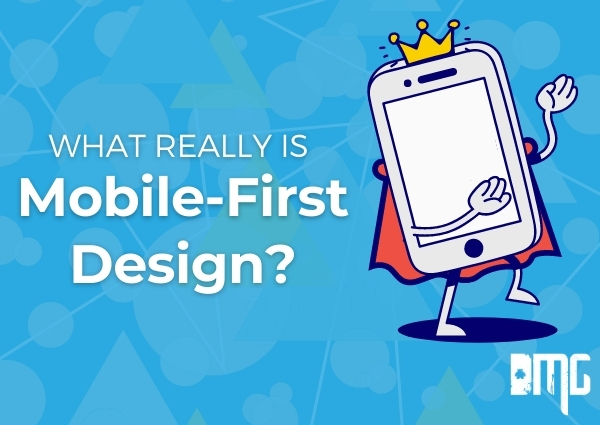 With a majority of the population using their mobile devices for search queries, it makes sense to give immediate attention to responsive design. And while responsive design is a key element, and one of the most common design and development elements for mobile search, there is a new contender out there who is dominating the design and development world and search engines.
This is mobile-first design, and while it is similar to responsive design, there are some very small differences that can make a bigger difference in the end.
What is mobile-first design?
Mobile-first web design is a way of thinking about website design, app design, mobile website and the overall customer and user experience. At its core, it is all about optimizing the site for the customer and what devices they are searching on.
At the end of 2019, Google, Yahoo and DuckDuckGo noticed a substantial increase in their overall mobile search queries versus desktop. The number of mobile searches has gone up nearly one billion since 2019, and is equal to 4.93B searches, that is a lot of mobile searches.
What does this all really mean? This means designing the following application above to really optimize for the smallest and largest screens out there.
Is there a difference between

responsive and mobile-first?

The thing is, there are pretty much the same thing, but with a bit of design and development difference in-between the process. All websites should be designed and developed to be responsive at minimum anymore, and once this is in place, a site can be designed for mobile-first web design.

Please see this graphic below to understand better how responsive and mobile-first design are different.
Improving the customer experience
With mobile-first design, you have to give your users the content that they need. This means designing in an efficient way to make sure that the consumer can find their needed item, information or answer and move on.
This means it welcomes both desktop and mobile users and can alternate back and forth between one user on each device. This is important for any omnichannel marketing strategy because it allows for lead generation, tracking and more.
While mobile-first design really is a design and development change, it is also a massive change for omnichannel marketing strategies. At the end of the day, it is important to place your users at the forefront of the design process, and responsive is a great place to start, but would mobile-first design be better?
Does a large majority of your traffic come from desktop versus mobile? Another reason to review these analytics is because it could cause a negative customer experience if the site is designed for mobile-first, first and not responsive!
For help with website design and development projects, contact Dallas Media Group, the leading Dallas web development agency in the area!
For help with website design and development projects
contact Dallas Media Group, the leading Dallas web development agency in the area!
Call us now!
Share this post
Comments