Five ways to increase your Google ranking in 2021
Five ways to increase your Google ranking in 2021
/images/uploads/blog/Dallas_Media_Group-01.06-Blog_.jpg
Omaha Media Group
https://www.omahamediagroup.com/images/uploads/monster_gallery/Omaha-Media-Group-Black.jpg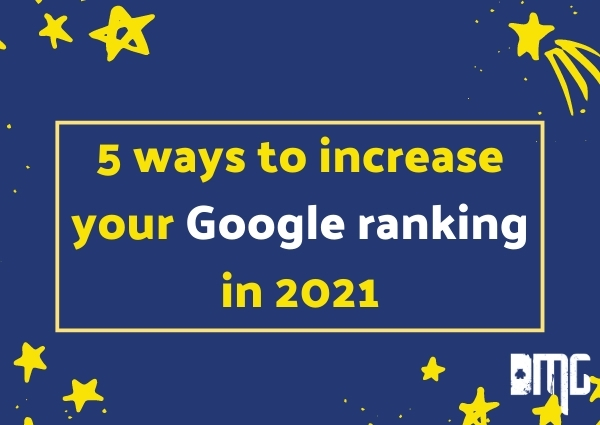 SEO strategies are one of the most effective and important marketing strategies for companies searching to gain long-term success with qualified leads and sales. And because of this, these are five ways to increase your Google ranking in 2021.
Now, please keep in mind that this is not a blog that will get you "ranking first and fast". This blog explains the importance of SEO, why you should always continue with it and finally the five strategies to keep in mind.
Each and every client that comes to Dallas Media Group's Dallas SEO consultant wants to increase their visibility, leads and sales and rank number one on Google. In order to do this, our Dallas SEO consultant explains that this is a never ending strategy because backlinks change, keyword volume and difficulty change, new competitors come into the market on a local and national level and because Google is ever changing!
There isn't a single, perfect way to approach SEO for each and every client, even in the same industry, however, technical SEO strategies should be implemented and continuously improved upon over time.
With this in mind, here is the next question that some of our best Dallas SEO experts get during introductory and continuous client meetings.
How long does it take to rank?
Are you ready for the answer that everyone finds a bit bizarre - it depends. This is because budgets change the strategies that can be implemented, the industry's competitiveness, the goals that your company is searching for and many other factors that are predictable, but at the same time, are not predictable.
Our experts have had clients gain considerable amounts of traffic and keywords within six months, and on the other hand, it took clients about eight months to start seeing the traffic that they were searching for.
The thing is the first client was in a less competitive position in their industry and their content was so unique that it was easy to get those rankings.
The second client was in a very competitive industry that was constantly fluctuating with keywords, ranking and new competitors on SERP.
Also, to note with the second client, it is a franchise, a very large one with over 10 locations that started with about 200 keywords. The first client is a small nonprofit! As you can see, the strategies and results are completely different, but the timelines shown above are the same!
What are our suggestions for any company in any industry for getting their ranking up this year?
The biggest challenge is starting with a solid foundation. If the foundation of the marketing strategy isn't very strong, a company will find itself hitting more roadblocks along the way than others. The thing is, most companies come to the best Dallas SEO expert with an old site with little optimization, but there are moments when our experts can launch this from the very beginning!
It is important to build on any foundation that was set, or if need be, understand it might need to be completely changed! A solid foundation includes, but is not limited to:
A responsive website

Modern, sleek design

Ability to optimize website content and back-end content

The ability to easily change content and update with weekly blogs

Remove toxic backlinks

Figure out your goals
Now, it is important to find the right team.
Hire the right team
Whether the team is an internal team or an external partner, it is imperative that any company hire the right team to handle their SEO strategies because this could determine the success of the website for its entire life.
Anyone who starts an SEO strategy that is not following proper Google Development guidelines and SEO strategies can cause more problems than good. This is known as "black-hat SEO" in our industry, and we have seen it more than we would like, and it brings havoc to the client's website for months to come.
Over the last couple of years, searchers have been changing their habits on search engines, such as an emphasis on using their smartphones for their search queries! As this continues to rise in popularity, and Google's Page Experience update coming sooner than later, mobile optimization and design is no longer an option.
Content marketing is essential in the entire strategy! This is because quality, unique content on landing pages, service pages and blogging content is what can be the difference between ranking and not ranking!
Once a company starts SEO strategies and starts to see its worth, never stop with SEO strategies! Just continue to evolve with the SEO updates and other strategies in place and continue on the path!
Contact Us
We want to hear from you, so what are you waiting for? Contact us today.
Get In Touch
Share this post
Comments