Four brands with excellent social media strategies
Four brands with excellent social media strategies
/images/uploads/blog/Dallas_Media_Group-08.11-Blog_.jpg
Omaha Media Group
https://www.omahamediagroup.com/images/uploads/monster_gallery/Omaha-Media-Group-Black.jpg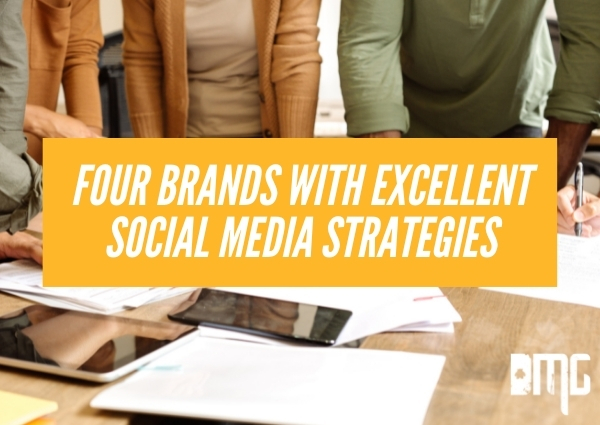 Social media marketing has provided companies the ability to grow their online presence, visibility, and credibility with thousands to millions of consumers across the globe, but the campaigns are only as strong as the strategies behind said campaigns.
There are brands that are dominating the social space, but what brands can every company and small business learn from? Here are four companies with the best digital marketing strategies!
1. GymShark
GymShark is one of the largest well-known brands of athletic and leisure apparel across the globe. GymShark's success can be attributed to its successful brand deals with influencers. From Olympic athletes to lifestyle and fitness influencers, GymShark has been able to create a brand that has over nine million followers on Instagram alone.
On average, there are 100 posts a day that are related to GymShark, with a large majority being image-based content. Hype Auditor shows the breakdown of their influencer marketing strategies.
Not only does GymShark have their GymShark athletes, these athletes often release their own limited-time clothing with GymShark. A great example of this is with the influencer Whitney Simmons.
Whitney is a GymShark athlete who is a lifestyle and fitness influencer who has released several exclusive clothing lines with GymShark.
Her social media posts reach her audience of 3.2M followers on Instagram alone and GymShark is able to share and utilize this content for their own social media marketing strategies.
2. Starbucks
Starbucks has over 30,000 chains worldwide and from their seasonal drinks to their everyday menu items, Starbucks is one of the companies with the best digital marketing strategies for several reasons. Starbucks puts an emphasis on their signature drinks, and with their drinks, their Instagram is very aesthetic with some user-generated content (UGC) in-between those aesthetics.
However, with consumers expecting companies to take a stand on social movements and environmental practices, Starbucks has been able to take both of these responsibilities into account with their marketing strategies.
From the trial of Derek Chauvin, the Black Lives Matter movement, switching their lids, and COVID-19 releases and updates, Starbucks has been able to strategically and politically take a stand on these issues and show their action of the movements.
3. Chipotle
Chipotle is one of the largest fast-food tex-Mexican restaurant chains that is excelling at their social media marketing strategies from Instagram to TikTok! What really makes Chipotle so great at its marketing strategy is the simplicity in the marketing. While it is "simple" this doesn't mean that the marketing is subpar compared to other companies.
Chipotle has a strong Instagram presence with a team that is awesome at answering questions and each and every comment left on their Instagram posts. Can you imagine whose job it is to answer all those comments? It must be a full-time position.
With their ability to strategically use memes to gain traction to new deals, drive traffic to their app for consumers to order more, and content that will be opinionated between their consumers, and User Generated Content (UGC), Chipotle understands their customer's needs and wants while being true to their brand.
When it comes to TikTok, Chipotle was one of the first brands to really trial and error on TikTok! With plenty of influencer partnerships and their "Guacamole Song" challenge, Chipotle saw a skyrocket in their sales!
Chipotle shows some personality in their marketing along with being conversational! Simplicity is sometimes better.
4. Shein
This fast-fashion brand has exploded in popularity over the past two years thanks to its great prices and sometimes great quality. With Shein's estimated networth at $15 billion dollars, this fast-fashion brand is showing that social media marketing and a strong online presence with word-of-mouth marketing are vital to continued success.
One of these social media platforms that helped Shein is TikTok. With the "Shein Hauls" and TikTokers ordering up towards $600 worth of product with reviewing their favorite pieces, this word-of-mouth marketing with just regular social media users has skyrocketed the popularity of this brand.
How can this help brands enhance their social media marketing strategies?
A company can invest in social media marketing, and while there are influencers with millions of followers, smaller businesses and brands might not be able to afford their prices. However, this is where micro-influencers come into play for smaller businesses and brands.
These are influencers with an even smaller, tight-knit community that has followers who resonate with their personal brand and trust them.
Another strategy is to simply be you. Whether that is the approach of Starbucks or Chipotle, it is important to find the best strategy that represents your brand that resonates with your target audience.
Social media marketing campaigns are only as successful as the strategies behind them. To be one of the companies listed on the companies with the best digital marketing strategies list, contact our experts today.
Share this post
Comments