Four ways to improve your website's UX design
Four ways to improve your website's UX design
/images/uploads/blog/Dallas-Media-Group-02.11-Blog_.jpg
Omaha Media Group
https://www.omahamediagroup.com/images/uploads/monster_gallery/Omaha-Media-Group-Black.jpg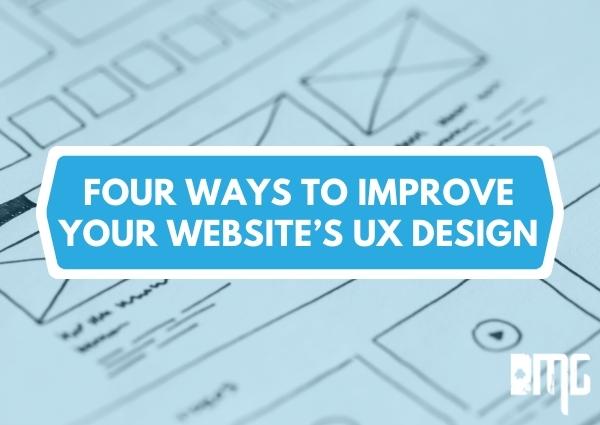 User experience (UX) is a vital part of all products and services and their websites. The right user experience can help to create a loyal customer base and a positive online presence.
How important is it? In the digital world, first impressions are everything. Research shows that 44 percent of shoppers will tell their friends about a bad online experience. With a first impression hitting its max at two seconds, make sure to improve your website's UX design in these four simple but effective ways.
How to improve user experience on website
Understand the user
The philosophy behind UX design deals with the user first and foremost. All design elements, changes, content, and everything in between need to be strategically implemented with the target audience in mind.
To improve your site's UX design, you need to understand the target audience! Who will be visiting the website? What are the design and content elements that these consumers will be searching for?
Brainstorm and decide on which factors would attract your specific target audience and start the design and development of your website around that. One type of design that may work well for a specific kind of target audience may not work well for another.
While responsive websites have always been a bonus, websites need to be designed and developed for mobile-first and foremost. Mobile UX design refers to the overall user experience on smartphones and even wearable devices.
All consumers have been on that type of website on a desktop computer and every click from beginning to end is overwhelming, but imagine this on a smartphone. On a smartphone, it is even more imperative to remove clutter, prioritize between content, videos, and design while making sure that everything is accessible to all.
Make sure that all elements of your website run as smoothly and responsively on a small screen as it does on a larger screen. Not only will it help with conversion rates being higher, but users are also guaranteed a smooth and seamless experience.
Simple is better
How to improve the user experience on website starts with keeping things simple and modern. It is what helps the user experience because it creates less clutter, mitigates a slow website, and keeps things concise. When it comes to simplicity with content marketing strategies, make sure that everything is scannable.
A 2008 research study, that still holds true today, reports that only 28 percent of the text on a single website page is actually read.
Users do not want to have to spend time figuring out how to find the necessary information, and even worse, get overwhelmed with the design.
Website navigation is what will help users navigate the website with ease, but there are several different types of navigation options out there, and based upon the size and needs of the site, it can be difficult to choose the right one.
Every user comes to a website to finish their stage in the customer journey, and no matter the stage this user is in, the navigation needs to be able to provide them with help.
The longer it takes to try to navigate the website, the more frustrated that consumers can get, and in return, this can cause a loss of leads.
Hire us!
At Dallas Media Group, our team of website design and development experts are here to help your company with our knowledge of different ways on how to improve user experience on website! For more information, contact us today!
Contact Us
We want to hear from you, so what are you waiting for? Contact us today.
Get In Touch
Share this post
Comments